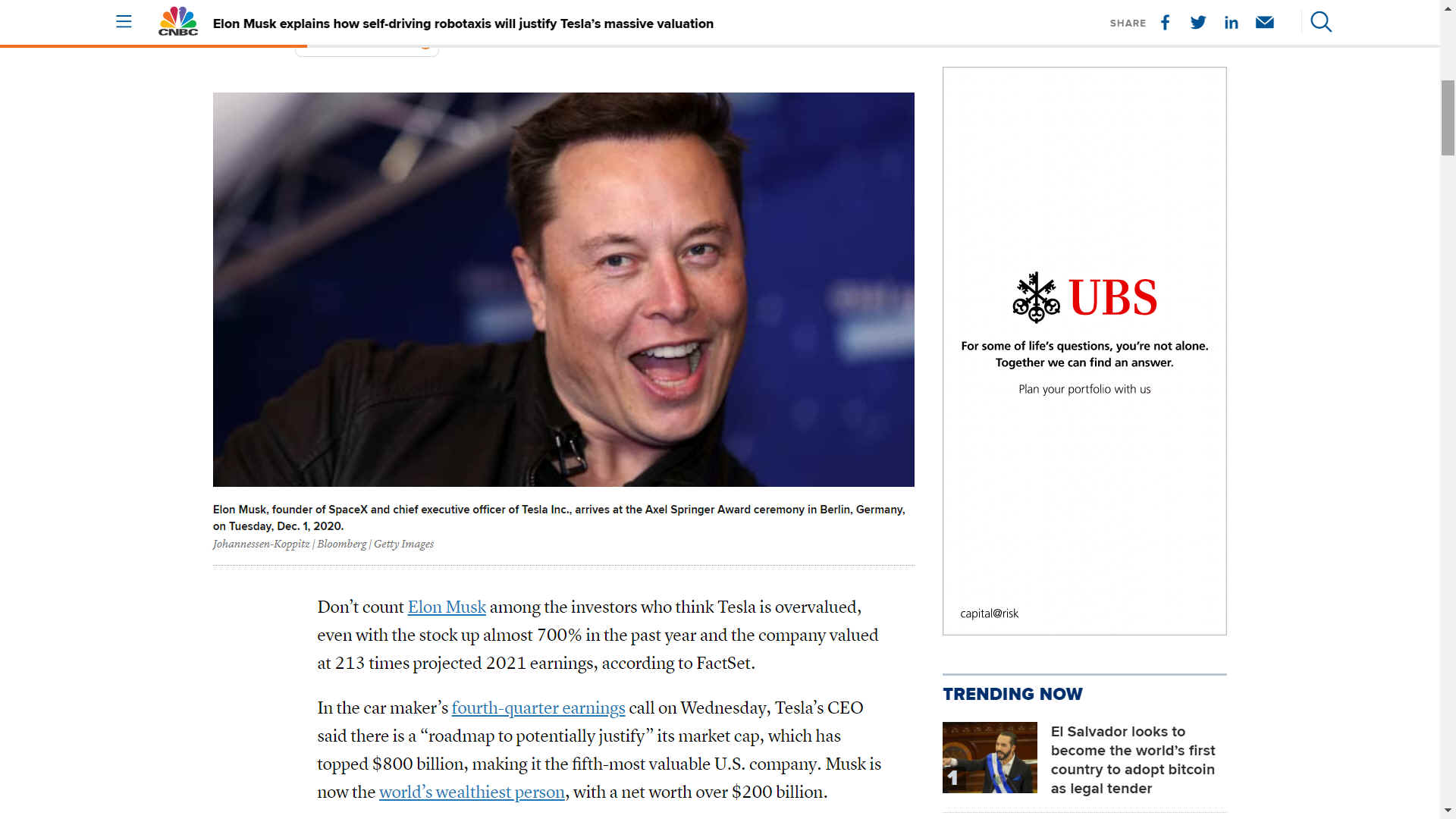 MUSK ON ROBOTAXIS - On the company's earnings call in January 2021, Tesla CEO Elon Musk said the valuation makes sense if you assume that billions of dollars worth of cars become robotaxis. But he is lagging way behind on robotic taxis and trucks, unless he's going to do another deal with the market leaders. Self driving trucks for freeway haulage logistics is all the rage at the moment for investors looking for the latest digital gold rush. Zoox, Cruise, Kodiak joins Pony.ai, Pronto.ai, Didi Chuxing, Waymo, Aurora, TuSimple and AutoX as they look for the elusive holy grail of AI on the road, somewhat blowing wildcard Tesla into the weeds. You can read more about these companies and the media coverage, and reviews, on this site. Even with the green hydrogen revolution taking place all over the world, there is as yet no energy vending system for these autonomous vehicles. It's competition as usual, in a world calling for collaboration.
Tesla is selling semi-autonomous, virtually self driving semi-robotic cars, or at least, they could be one day. But they are expensive, and because of Mr Musk's aversion to green hydrogen, they may one day be in the slow lane, when it comes to refuelling and range. For now, they represent a wonderful way to wake up to the fact that petrol and diesel cars are on their way out.
And what an achievement. BMW started off making Austin 7s under license, Tesla took a Lotus frame and stretched it, to be able to insert a large battery pack. From humble beginnings, might oaks do grow.
9 JUNE 2021

According to reports, Tesla's best-selling Model 3 sedan lost two designations from Consumer Reports after the company made changes to the car's automatic braking and front collision warning systems.

The car was stripped of its designation as Top Safety Pick+ from the Insurance Institute for Highway Safety.

The moves came after Tesla's announcement, that as of May 1, its Model 3 and Model Y SUVs replaced the radar based system it used to detect obstacles with a camera-based system, the company dubs "Tesla Vision."

Controversially, these will be the first Tesla vehicles to rely on camera vision and neural net processing to deliver Autopilot, full-self driving (presumably Level 5) and certain active safety features, according to a statement Tesla posted on its website. Tesla were unavailable for comment.

The change in technology prompted the US federal safety regulator, the National Highway Traffic Safety Administration, to drop the cars' listing as having automatic braking or a front collision warning system. And that, in turn, prompted Consumer Reports to change its rating on the Model 3.

"To be considered for a Consumer Reports Top Pick, a vehicle must be recommended and have standard front collision warning and automatic emergency braking with pedestrian detection," Consumer Reports said in a posting on its site. Without those features the Model 3's overall score dropped to 75 from 78, although it retained its "recommended" status.
CNBC 27 JANUARY 2021 - Musk explains how self-driving robotaxis justify Tesla's massive valuation

Don't count Elon Musk among the investors who think Tesla is overvalued, even with the stock up almost 700% in the past year and the company valued at 213 times projected 2021 earnings, according to FactSet.

In the car maker's fourth-quarter earnings call on Wednesday, Tesla's CEO said there is a "roadmap to potentially justify" its market cap, which has topped $800 billion, making it the fifth-most valuable U.S. company. Musk is now the world's wealthiest person, with a net worth over $200 billion.

Musk's valuation math goes like this: Assume the company soon reaches $50 billion to $60 billion in annual car sales (the company generated $9.31 billion in automotive revenue in Q4 and said that vehicle deliveries would increase an average of 50% a year going forward). As Tesla's self-driving technology continues to improve, those vehicles will become self-driving robotaxis, allowing usage to go from 12 hours a week to 60 hours a week. Tesla could charge additional fees for those robotaxis, allowing the company to generate much more revenue per car. Basically, it would be like bringing software economics to the manufacturing-intensive car business.

Musk also announced that Tesla's Full Self Driving package will be available on a subscription basis starting in Q1, rather than as a one-time $10,000 add-on, which will allow Tesla to begin adding recurring revenue as it works on improving its self-driving technology.

Even if usage only doubles, a $1 trillion valuation can make sense, according to Musk.

"If you made $50 billion worth of cars, it would be like having $50 billion of incremental profit, basically because it's just software," Musk said in the introductory part of the call. Based on that formula, Musk says a multiple of 20 times earnings would lead to $1 trillion in market cap -- "and the company's still in high-growth mode."

Less than nine months ago, Musk had a very different perspective on the company's valuation. In a tweet on May 1, he said "Tesla stock price is too high," a comment that sent the shares down 10%. Since then, the company's market cap has jumped by more than 450%.

It's possible that investors are already presuming Tesla's cars will eventually turn into revenue-generating robotaxis. But the company isn't close to having those capabilities yet, and Musk has a history of over-promising when it comes to technological innovation.

For instance, when Tesla began to discuss self-driving technology in 2016, Musk said the company would complete a hands-free trip across the U.S. by late 2017. The company has yet to complete that mission.

Currently, Tesla's Full Self Driving features include Smart Summon, which lets a driver call their Tesla to roll out from a parking spot to where they are standing, and Navigate on Autopilot, which can pilot the car from a highway on-ramp to an off-ramp, making necessary lane changes along the way.

But despite its name, the Full Self Driving package still requires drivers to keep their hands on the steering wheel and remain attentive at all times. A Munich court ruled last year that Tesla misled consumers on the abilities of its automated driving systems, and banned the company from including "full potential for autonomous driving" and "Autopilot inclusive" in its advertising materials.

While Tesla has missed many of its own projections for self-driving technology, Musk continues to insist that it's coming. "I really do not see any obstacles here," he told an analyst on the call who asked about the company's progress.

Tesla shares fell 5.5% in extended trading on Wednesday after the company reported earnings that missed analysts' estimates, even as revenue was better than expected.
ENERGY STORAGE
Tesla CEO Elon Musk announced in 2015 that the electric-vehicle company would be getting into the energy business. Now, it's starting to take off. On its Q4 2020 earnings call, the company said its battery deployments increased 83% in 2020, particularly thanks to the popularity of the Megapack, which stores energy for utilities.

Renewable energy such as solar and wind need battery storage for when the wind isn't blowing and the sun isn't shining. As nations around the world set goals to transition to renewables, demand for these large-scale storage systems is on the rise. Grid-scale battery storage is expected to become a $15 billion market by 2027, according to Grand View Research.

CNBC visited PG&E's Tesla Megapack site in Moss Landing, California, to see Tesla's energy storage systems, to ask if systems like Tesla's could be everywhere in a future of renewable power. Is cobalt the new 'turbinium,' with giant installations of lithium batteries soaking up the finite resource, where hydrogen offers a potentially more sustainable solution.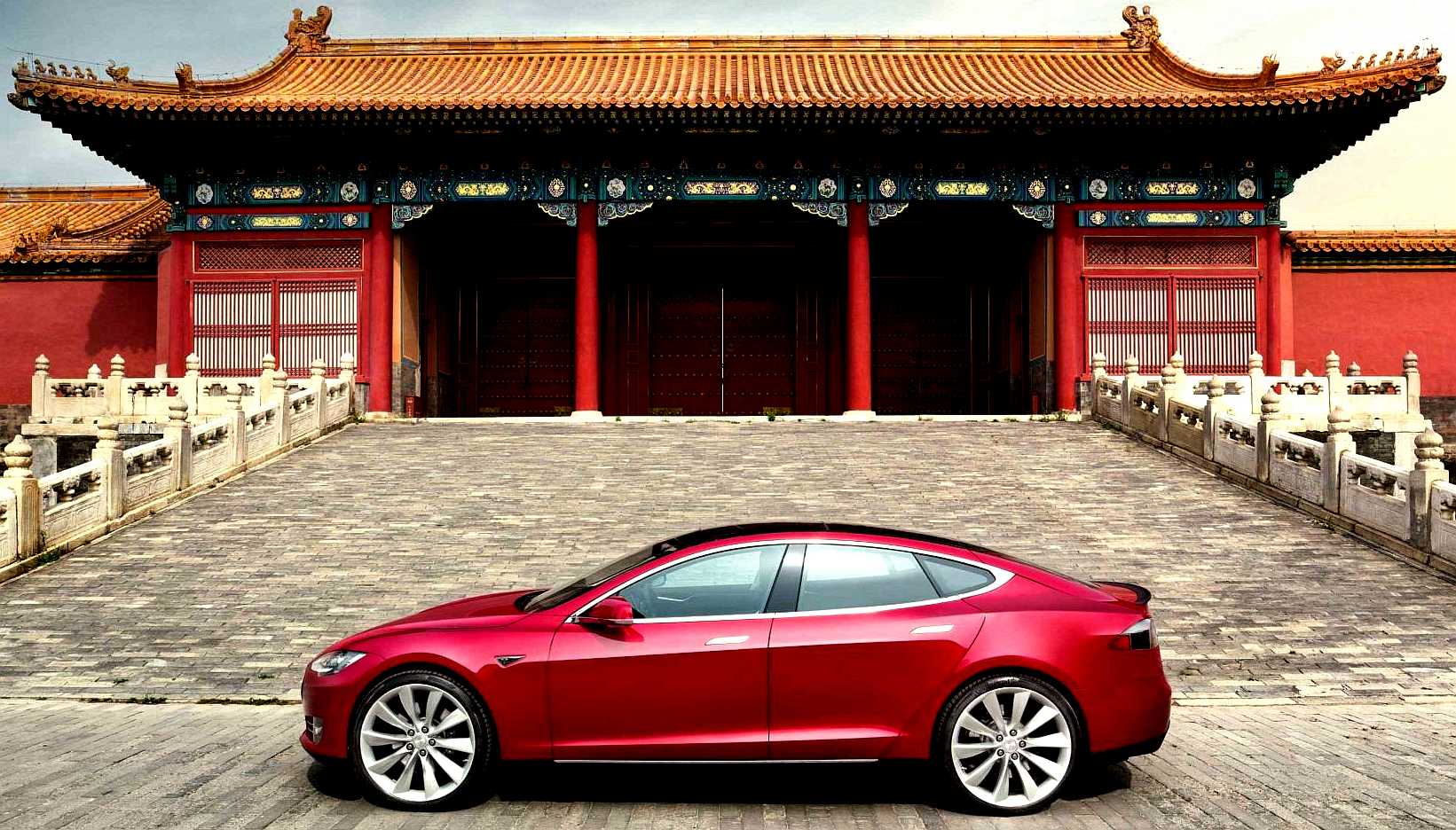 TESLA - The cars from this company are fast, but to date, offer lithium batteries only, meaning that much of the car, if not all of it, is imported from a long way away. They are also very expensive to buy.
RECHARGING UNMANNED EVS FOR SMARTER CITIES
At the moment, the only system that would be capable of servicing such vehicles would be the proposed SmartNet™ dual fuel service stations, where such vehicles do not need human assistance to replenish their energy reserves.
Allied to this is PAYD (Pay As You Drive) billing, also seen as a necessary function for autonomous, unmanned, self-driving, robotic vehicles of the future and cleaner air for our children.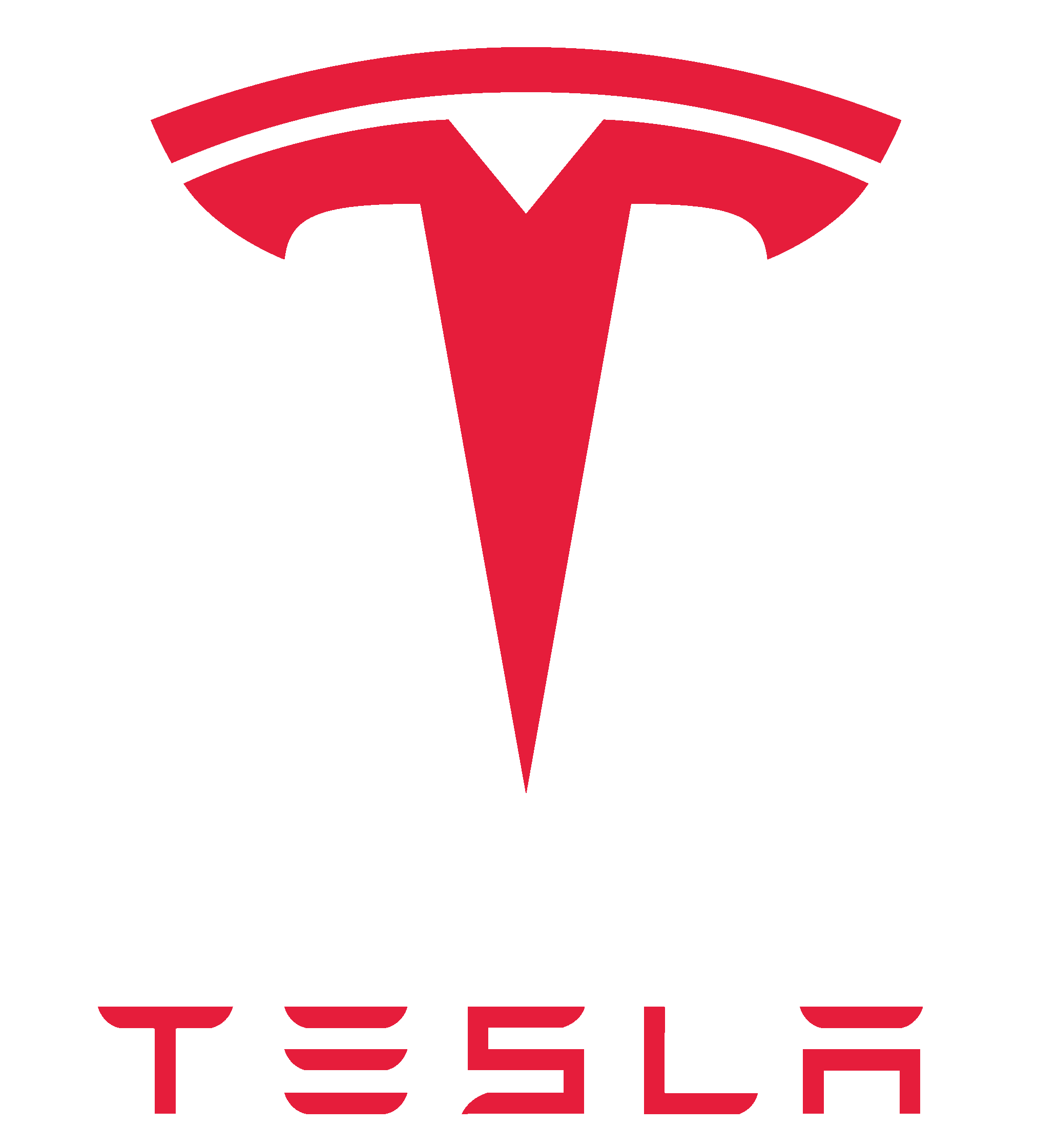 https://www.cnbc.com/2021/01/27/elon-musk-explains-how-self-driving-robotaxis-justify-tesla-valuation.html
https://www.cnbc.com/2021/01/27/elon-musk-explains-how-self-driving-robotaxis-justify-tesla-valuation.html
THE AUTOMATED and ELECTRIC VEHICLES ACT 2018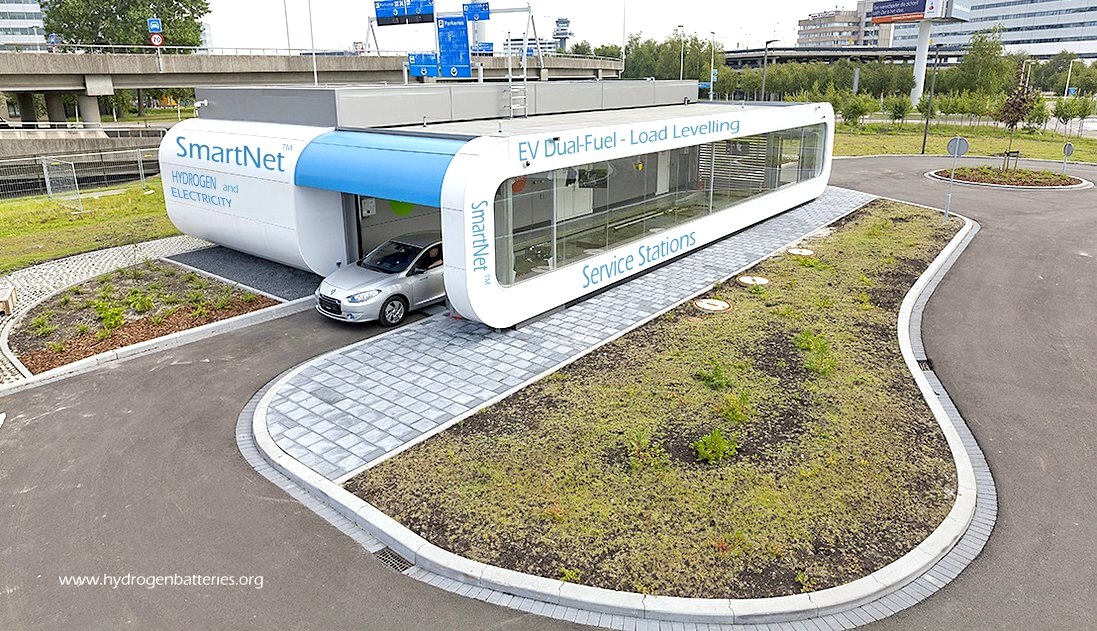 SMART SERVICING FOR ROBOT VEHICLES - Those looking for a future proofed infrastructure for renewably sourced energy for electric vehicles, may want to consider the new breed of self driving passenger cars, taxis, and commercial trucks that will benefit from automated recharging if they are to be fully autonomous in operation - most especially unmanned robotic taxis and freight vehicles.
Please use our A-Z INDEX to navigate this site
This website is provided on a free basis to promote zero emission transport from renewable energy in Europe and Internationally. Copyright © Universal Smart Batteries and Climate Change Trust 2021. Solar Studios, BN271RF, United Kingdom.