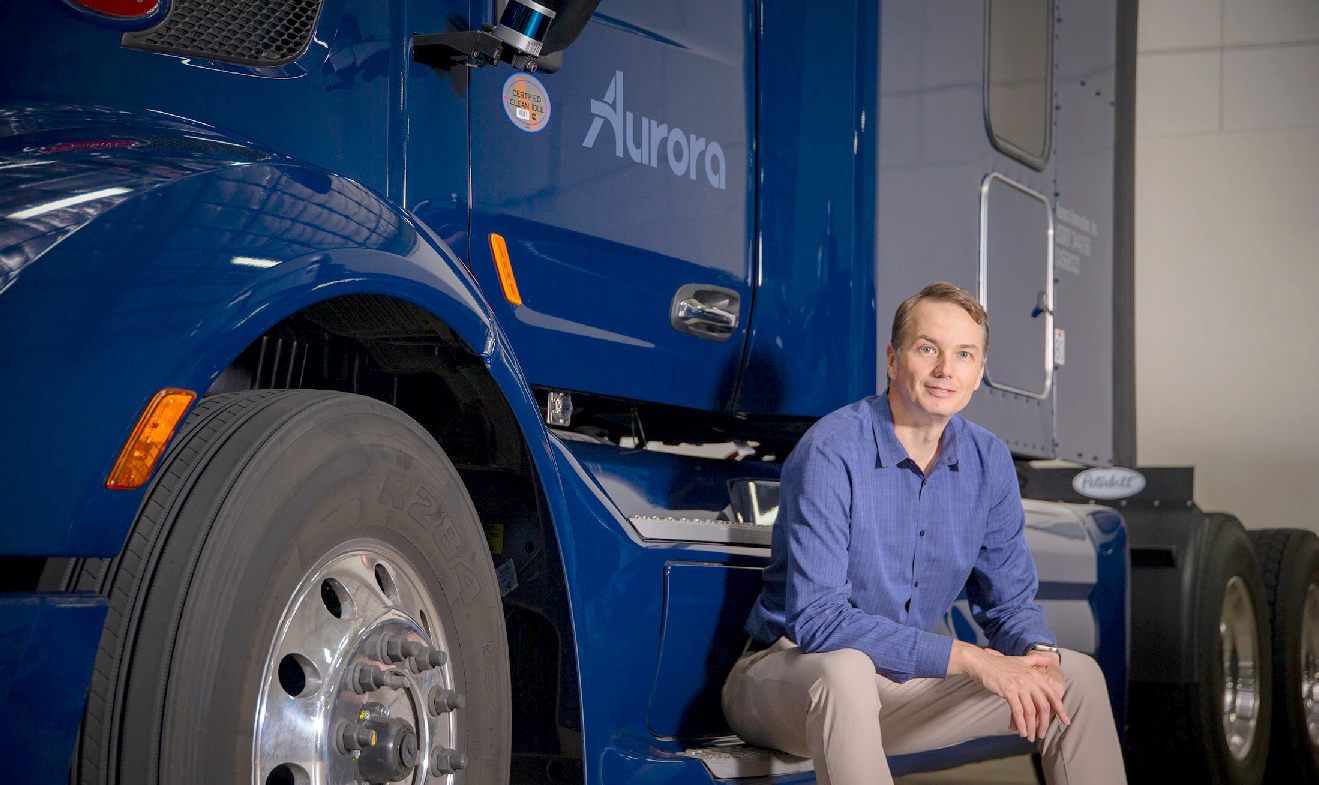 AURORA - Autonomous truck driving systems are making waves in the R&D and investment departments of most OEMs, as they scramble to keep up with the Jones'
According to Bloomberg: "Aurora was started by industry luminaries, and now we're a team with a multitude of experience and perspective. With decades of engineering, science, and domain expertise, we're incorporating our best practices to create a company for the long-term and building the Aurora Driver that will deliver the benefits of self-driving technology safely, quickly, and broadly.

"Aurora Innovation's biggest claim to fame may be its rock star cast of automated driving nerds. CEO Chris Urmson started Alphabet Inc.'s self-driving project. Co-founder Sterling Anderson led the team that developed Autopilot for Tesla Inc. And Chief Technology Officer Drew Bagnell is a robotics professor at Carnegie Mellon University who helped found Uber Technologies Inc.'s self-driving center in Pittsburgh."
TECH CRUNCH 3 JUNE 2021 - AURORA CALLS IN SAFETY EXPERTS

Aurora, the autonomous vehicle company that acquired Uber ATG last year, has assembled a team of outside experts, shared new details about its operations in a self-assessment safety report and launched a website as part of a broader effort to win over consumers wary of the technology that they may someday share the road with, or even use.

Aurora said Thursday it has tapped experts in aviation safety, insurance, medicine and automotive safety — all people from outside of the niche AV industry — to provide an outside perspective on the company's overall approach to safety, to look for gaps in its system and advise on the best ways to share its progress and record with regulators and the public. The advisory group is designed to augment Aurora's existing safety efforts, which includes on-road testing and development.

"I think for a while we've almost done the 'Field of Dreams' analysis where it's like, 'well if we build it they will come, just look at iPhones,'" Nat Beuse, Aurora's head of safety said in a recent interview with TechCrunch. "We are always comparing it to these other consumer products, and I'm not so sure that is actually how we win over the hearts and minds of consumers in every single community in the United States."

Beuse, who previously led the safety team at Uber ATG and once oversaw automated-vehicle developments at the U.S. Department of Transportation, said the goal is for driverless vehicles — whether that's robotaxis shuttling people or trucks hauling freight — to be adopted broadly. That can't happen, he said, without being able to measure and show the public that the technology is safe. He noted that public trust is one of the two biggest threats he sees to the AV industry.

"If all we worry about is a small number of people who get exposed to [AVs] we will never see the benefits of this technology and the broad scale, sweeping changes and the impact that it can have on our lives in a beneficial way," he said. "We have to do a lot more there [gaining public trust]. Beuse added that gaining public trust should be done in concert with the government.

"I think for too long it's been, 'You, industry, you solve it. You're building this stuff,'" he said. "And I really think it's a partnership. Of course, we're building the tech, we have a huge responsibility, but also the government has a huge, huge role to play and helping us kind of get the public on board."

The members of the safety advisory board include Intelligent Transportation Society of America President and CEO Shailen Bhatt, Dave Carbaugh, the former chief pilot for flight-operations safety at Boeing and Victoria Chibuogu Nneji, the lead engineer and innovation strategist at Edge Case Research. Other members include Biologue President Jeff Runge, who is also a former administrator of the National Highway Traffic Safety Administration, Adrian Lund, managing member of HITCH42, LLC and former president of the Insurance Institute for Highway Safety and GHS Aviation Group CEO George Snyder.

The committee, which has already been meeting, is comprised of people who "don't live and breathe the tech," Beuse said.

Most importantly, for Aurora and the rest of the industry, is addressing the looming question of 'how safe is safe enough?' when it comes to driverless vehicles. One metric that has been adopted, and increasingly criticized, is comparing vehicle miles traveled and vehicle miles per "disengagement," an industry jargon term that means a human safety operator has taken over from the computer driving the vehicle.

"We've been pretty adamant that that's not a real metric because you can drive around in a parking lot and generate some interactions and that's a whole lot different than if you're driving in a city — and oh by the way, that's a whole lot different if you're driving on the highway," Beuse explained.

Aurora is part of the Automated Vehicle Safety Consortium (AVSC), which includes Daimler, Ford, GM, Honda, Lyft, Motional, SAE and Toyota, that is working to come up with better safety metrics. The new Aurora safety advisory board isn't working directly on the AVSC project, however it is providing general guidance that could help in this effort.

While there is still more work to be done to validate these new metrics, the group does have a handful that it thinks are pretty promising, Beuse said.
BLOOMBERG 15 APRIL 2021 - A Little-Known Upstart Might Just Beat Google to Autonomous Driving

On Feb. 11, about a month after closing on the acquisition of Uber's Advanced Technologies Group, or ATG, the self-driving-car startup Aurora held an all-hands meeting. Like every other company meeting since the pandemic began, it took place via videoconference, and included the simulacra of in-person office interactions. When managers handed out awards, there was no applause from co-workers. Instead, Aurora co-founder and Chief Executive Officer Chris Urmson hit a button that produced canned cheers and clapping. "I am so looking forward to not having that button," Urmson said after setting it off for the third time.

The weeks leading up to the meeting had been full of upheaval at Aurora Innovation Inc. Uber Technologies Inc. had essentially paid it to take ATG, forking over $400 million for a stake in the combined enterprise, which was valued at $10 billion. The deal allows Uber to unload a unit that was hemorrhaging cash while keeping a foothold in autonomous vehicles. Aurora, in return, adds almost 1,000 employees, more than doubling its workforce to 1,600 and bolstering its bid to become a credible competitor to Alphabet Inc.'s Waymo. The deal also gives Aurora what could be a bigger prize: the right to provide robo-taxis to Uber's ride-hailing network.

"Having a strategic relationship with Uber is an incredible advantage," Urmson says. Over the past two decades he's done more than perhaps anyone to push the development of autonomous-driving technology. Now he's in a leading position to be the first to truly commercialize it. But with the addition of hundreds of highly paid engineers and a large pool of potential customers, Urmson is under more pressure than ever to bring a product to market.

Since co-founding the company in January 2017 - with former Tesla engineer Sterling Anderson and Drew Bagnell, who came from ATG - Urmson has been lining up deals to ensure that buyers will be waiting when his robot drivers are ready. The plan is to begin with long-haul trucking. Earlier this year, Paccar Inc. and Volvo Group signed agreements to install Aurora's automated driving system in their trucks. The two companies would then offer these trucks, capable of operating themselves for long stretches, to their shipping customers, who would pay Aurora for the hours of automated driving.

After establishing itself in trucking, Aurora would begin cherry-picking the easiest, most lucrative trips from Uber's ride-hailing network. A customer looking to go 25 miles, mostly by highway in light traffic, might be greeted by a driverless car. Aurora already has a deal with Toyota Motor Corp. to build robo-taxi fleets.

A 2019 investment from Amazon.com Inc. sets the company up for a similar strategy in delivery, allowing it to service the easiest routes for e-commerce customers. If all goes right, its robot drivers would take over entire fleets of cars, trucks, and vans.

Urmson says Aurora's driving system can become better than the average trucker in a matter of years, not decades. He has a target in mind for when the first trucking product will be ready, though he's not yet willing to share it. He knows as well as anybody how the work of building autonomous vehicles can expand endlessly. At 44, Urmson has been working on self-driving cars for most of his adult life, first as a 27-year-old graduate student at Carnegie Mellon University, where he led teams that competed in three Defense Advanced Research Projects Agency (Darpa) challenges, winning the final race in 2007. He then spent eight years with Google's self-driving-car project, now known as Waymo.

Urmson left in 2016, shortly after Google passed him over for the CEO job and instead hired former Hyundai Motor Co. executive John Krafcik. "I'd been leading and building that team and, for all intents and purposes, general managing it for years," he says. "Of course I wanted to run the program." (Krafcik announced in April that he was leaving Waymo.)

Aurora was born from meetings Urmson had with Reid Hoffman, the LinkedIn co-founder and venture investor, and Mike Volpi of Index Ventures. The three thought that the automotive industry wouldn't tolerate a Google monopoly in self-driving technology and that Urmson was the one to develop a viable alternative. "Chris had already gone through and solved the problem once," Hoffman says, "and now knew which things he would rebuild entirely differently."

In 2018, Hoffman's firm Greylock Partners and Volpi's Index co-led a $90 million fundraising round in Aurora, which has now raised more than $1 billion. It's likely to take even more before Aurora will be able to support itself. "I don't understand how Aurora is going to be able to survive without raising more capital," says Grayson Brulte, co-founder of Brulte & Co., a consulting firm focused on transportation. The acquisition of ATG and its hundreds of engineers adds to that burden. "It's like taking two money pits and making a bigger one," says one former Aurora manager who asked to remain anonymous when talking about his past employer.

Urmson doesn't shy away from the possibility the company may need to raise more money, and he's confident it would be able to do so. He says the ATG merger is already showing tangible benefits. Before the deal, Aurora spent hours calibrating the sensors on each of its vehicles, with workers walking around holding placards at set distances to be sure the sensors measured accurately. ATG devised a faster, automated process using large turntables to rotate the vehicles. On the February call, a former ATG engineer said the turntables would soon be in place at all of Aurora's vehicle depots.

Aurora will need every possible advantage in the race to bring autonomous vehicles to market. The leading competitor is Urmson's old shop, Waymo, which, in addition to launching the first fully driverless ride-hailing service in suburban Phoenix last year, has a passenger-sharing agreement with Uber's top rival, Lyft Inc. A handful of startups that have joined forces with auto manufacturers, including Cruise with General Motors Co. and Argo AI with Ford Motor Co., also promise to be formidable.

Urmson sees Aurora's singular focus as its advantage. He doesn't have to worry about quarterly earnings in other parts of the company or trying to keep the Detroit office at arm's length. "This is the thing we do," he says. "This is what we're going to be excellent at."

During the February meeting an employee asked if TuSimple, a San Diego-based autonomous-trucking startup that raised more than $1 billion in an initial public officer this week, might beat Aurora to that market. "We do think that we are going to be first or at least meaningfully first," Urmson replied. He defines "meaningfully first" as a commercial product that can be scaled safely.
Urmson also believes Aurora's lidar - the laser sensors that most autonomous vehicles use to perceive the world around them - is superior, giving it an edge. In 2019 the company bought the Montana startup Blackmore Sensors & Analytics, which makes a type of lidar called frequency-modulated, continuous-wave, or FMCW, that allows the sensors to simultaneously measure range and velocity, which vastly simplifies the problem of predicting the movements of faraway objects. "When you're driving a truck at 65 miles an hour on the freeway and you want to react to the rare events, you need to see 300 meters down the road," says Urmson. He says no one else in the industry can match that performance.

TuSimple and Waymo - which started its trucking division, Via, in 2017 - also promote the superiority of their sensors. A wild card is Tesla Inc., whose CEO, Elon Musk, sees the lidar arms race as a never-ending fool's errand. For the past six years the automaker has been using its millions of electric-vehicle customers as test subjects in a large-scale public road experiment in camera-based autonomous systems, offering an "autopilot" that allows drivers to relinquish control to the car. Musk has said Tesla owners will eventually be able to use their vehicles as robo-taxis during downtime. Urmson is skeptical. "It's just not going to happen," he says. "It's technically very impressive what they've done, but we were doing better in 2010."

In 2015, Urmson gave a TED Talk in Vancouver called "How a Driverless Car Sees the Road," explaining how Google's software was learning to recognize cars, buses, cyclists, and pedestrians and anticipate their movements. At the end he displayed a photo of his two sons. "My oldest son is 11," he said, "and that means in four and a half years he's going to be able to get his driver's license. My team and I are committed to making sure that doesn't happen." His son, now 17, still doesn't have his license, but he does have a learner's permit. Over the past few months, while trying to teach trucks to drive themselves, Urmson has also spent a few hours teaching him to drive. "He's working towards it," he says. "I'm not actively sabotaging him." By Ira Boudway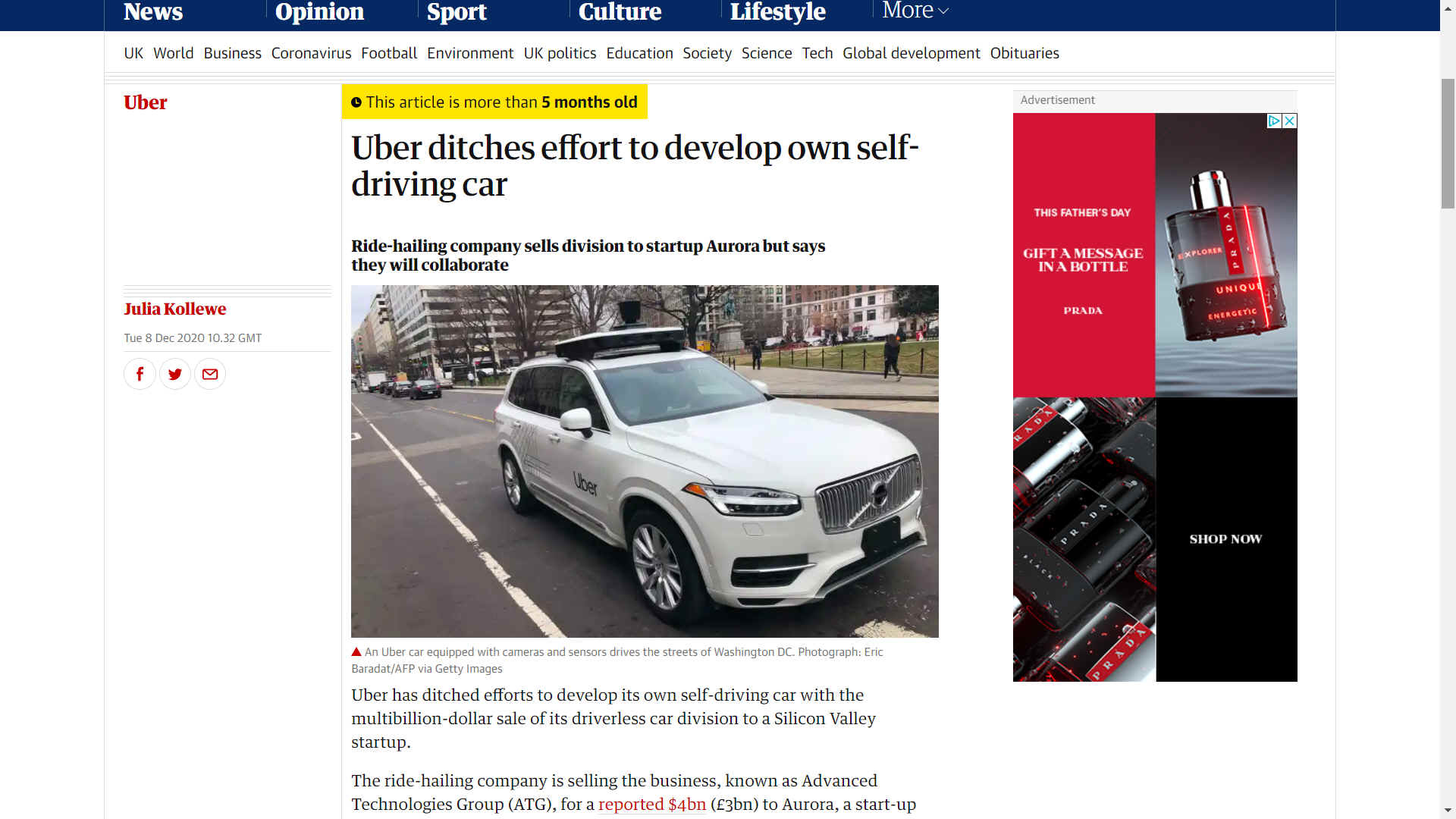 THE GUARDIAN 8 DECEMBER 2020 - Uber ditches effort to develop own self-driving car

Uber has ditched efforts to develop its own self-driving car with the multibillion-dollar sale of its driverless car division to a Silicon Valley startup.

The ride-hailing company is selling the business, known as Advanced Technologies Group (ATG), for a reported $4bn (£3bn) to Aurora, a start-up that makes sensors and software for autonomous vehicles and is backed by Amazon and Sequoia Capital.

As part of the deal, Uber is investing $400m in Aurora in return for a minority stake of 26%. Uber's chief executive, Dara Khosrowshahi, will join Aurora's board. The deal will also give Aurora access to a carmaker, Japan's Toyota, which has invested in ATG. ATG has grown to a venture with 1,200 employees.

Uber said it would collaborate with Aurora in bringing driverless cars to its network in the coming years.

"Few technologies hold as much promise to improve people's lives with safe, accessible, and environmentally friendly transportation as self-driving vehicles. For the last five years, our phenomenal team at ATG has been at the forefront of this effort – and in joining forces with Aurora, they are now in pole position to deliver on that promise even faster," said Khosrowshahi.

"I'm looking forward to working with [Aurora chief executive] Chris [Urmson], and to bringing the Aurora Driver to the Uber network in the years ahead."

Developing autonomous technology has been Uber's big ambition since its then chief executive Travis Kalanick launched the driverless car division in Pittsburgh in 2015, in a mission to drive down costs.

At the time, Uber was ahead of rivals such as Google and Tesla in the race to develop "robotaxis". But it suffered a serious setback when an autonomous Uber car killed a woman who was crossing the street in Arizona in 2018, and was also caught up in legal battles as Google's self-driving car project Waymo sued Uber for alleged technology theft.

Under Khosrowshahi, Uber has expanded in areas such as food delivery. The company, which went public in 2019, has come under pressure from investors to focus on becoming profitable.

Aurora was founded in 2017 by Urmson, an early pioneer of what became the self-driving taxi firm Waymo; Sterling Anderson, the chief product officer, who previously worked at Tesla; and Drew Bagnell, the chief technology officer, who was a founding member of Uber's self-driving division.

RECHARGING UNMANNED EVS FOR SMARTER CITIES
At the moment, the only system that would be capable of servicing such vehicles would be the proposed SmartNet™ dual fuel service stations, where such vehicles do not need human assistance to replenish their energy reserves, where blue is the new green, helping to cool our climate.
Allied to this is PAYD (Pay As You Drive) billing, also seen as a necessary function for autonomous, unmanned, self-driving, robotic vehicles, is helping to make the world a better place.
https://www.theguardian.com/technology/2020/dec/08/uber-self-driving-car-aurora
https://www.bloomberg.com/news/articles/2021-04-15/aurora-s-autonomous-car-plan-to-catch-up-to-waymo-trucks-and-ubers
https://techcrunch.com/2021/06/03/aurora-brings-in-outsiders-to-boost-safety-efforts-public-trust-of-driverless-vehicles/
https://techcrunch.com/2021/06/03/aurora-brings-in-outsiders-to-boost-safety-efforts-public-trust-of-driverless-vehicles/
https://www.bloomberg.com/news/articles/2021-04-15/aurora-s-autonomous-car-plan-to-catch-up-to-waymo-trucks-and-ubers
https://www.theguardian.com/technology/2020/dec/08/uber-self-driving-car-aurora
THE AUTOMATED and ELECTRIC VEHICLES ACT 2018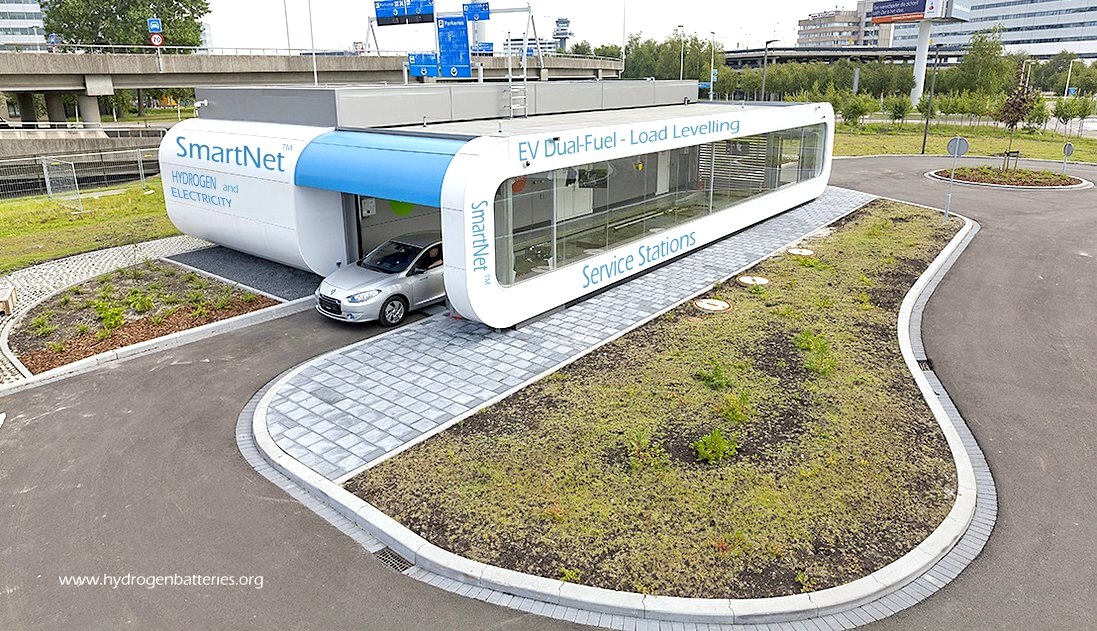 SMART SERVICING FOR ROBOT VEHICLES - Those looking for a future proofed infrastructure for renewably sourced energy for electric vehicles, may want to consider the new breed of self driving passenger cars, taxis, and commercial trucks that will benefit from automated recharging if they are to be fully autonomous in operation - most especially unmanned robotic taxis and freight vehicles.
Please use our A-Z INDEX to navigate this site
This website is provided on a free basis to promote zero emission transport from renewable energy in Europe and Internationally. Copyright © Universal Smart Batteries and Climate Change Trust 2021. Solar Studios, BN271RF, United Kingdom.