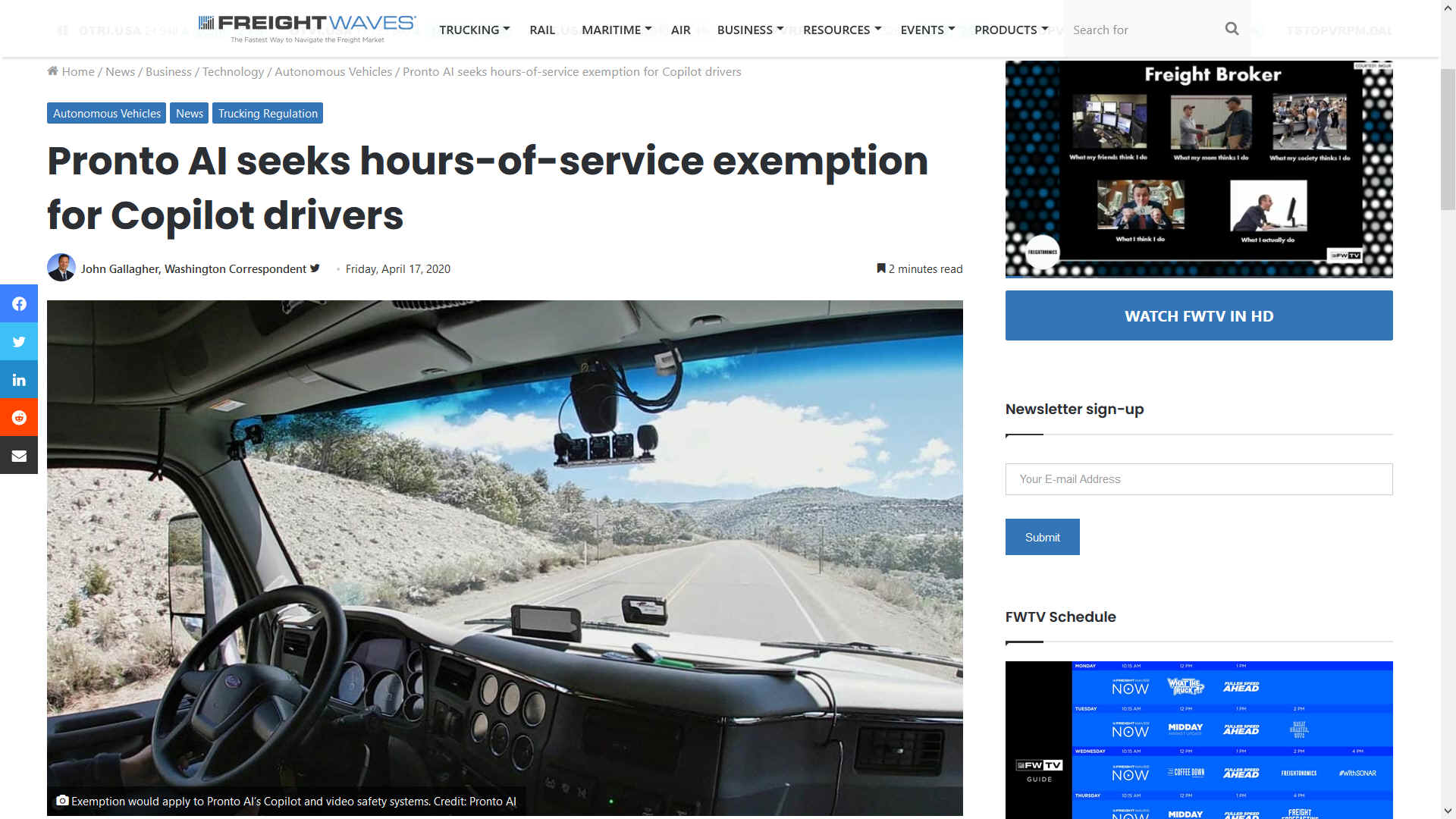 PRONTO.ai - Self driving taxis in cities and trucks for freeway haulage logistics is all the rage at the moment for investors looking for the latest digital gold rush. Kodiak joins Waymo, Aurora, TuSimple and AutoX as they look for the elusive holy grail of AI on the road, somewhat blowing wildcard Tesla into the weeds. You can read more about these companies and the media coverage, and reviews, on this site. Strangely, even with the hydrogen revolution taking place all over the world, there is as yet no energy vending system for these autonomous vehicles. It's competition as usual, in a world calling for collaboration.
Self-driving cars and trucks may drive themselves, but development is driven by economics. They will forecast to grow exponentially in the next two decades. How we deliver goods, the ownership of personal vehicles, ridesharing, public transportation – these all will take new shapes as autonomous electric vehicles (AEVs) accelerate.

Cities, utilities, industry players and policymakers are quickly scaling to deliver on AEVs, which promise to be safer, faster, more cost-effective, and cleaner for our health and environment than yesterday's mobility systems.

FREIGHT WAVES 17 APRIL 2020 - Pronto AI seeks hours-of-service exemption for Copilot drivers

Pronto AI is asking that drivers in trucks using its driver-assist technology be exempt from federal work rules to help encourage investment in autonomous trucks and speed up adoption of new safety systems.

Specifically, the autonomous trucking startup is seeking a renewable five-year exemption that would allow drivers to drive up to 13 hours within a 15-consecutive hour driving window after coming on duty, following 10 consecutive hours off duty, according to a request sent earlier this month to the Federal Motor Carrier Safety Administration (FMCSA).

Current regulations allow a 14-consecutive hour driving window in which to drive up to 11 hours after being off duty for 10 or more consecutive hours. The exemption would apply to drivers operating trucks equipped with Pronto AI's Copilot advanced driver assistance systems (ADAS) and its "SmartDrive" Video Safety Program.

Comments on Pronto AI's request are due 30 days after FMCSA's notice is published in the Federal Register, which is scheduled for April 20.

"A driver operating under the exemption would be 'hands on' and in complete control of the vehicle at all times," the company stated in explaining its Level 2 automation technology. The added level of automation reduces physical and mental stress for the driver, "thereby allowing a modest increase in certain HOS parameters," the company asserted.

"Plus, these same technologies would provide additional levels of safety by reducing the risk of the driver becoming drowsy or distracted and assist the driver in maintaining safe and proper control of the vehicle. In concert, these technologies provide a level of safety that is equivalent to or greater than would result from operation without the requested exemption."

Pronto AI, which was among FreightWaves' 2020 FreightTech 100 winners, also noted that granting the HOS exemption would "provide a meaningful operational incentive for investment in these technologies, which will also help overcome some driver resistance to using ADAS and video-based onboard safety systems, especially driver-facing cameras."

Opponents of autonomous vehicle (AV) technology have emphasized the potential for job loss resulting from the technology and decreased safety that will lead to more crashes. Responding to those assertions, Robbie Miller, Pronto AI's CEO and Chief Safety Officer, recently told FreightWaves that the cost savings that come from carriers not having to hire drivers will ultimately increase the number of workers in trucking and other sectors of the economy.

Pronto AI's Copilot technology, which FreightWaves test-drove last year, is part of a four-year study led by the Virginia Tech Transportation Institute to provide regulators with guidelines for integrating ADAS into current fleets. The research is funded by a $7.5 million grant from the U.S. Department of Transportation. By John Gallagher


AXIOS.COM 28 AUGUST 2019 - CEO indictment hangs over latest startup Pronto.ai

Tuesday's indictment of former Uber executive Anthony Levandowski for allegedly stealing trade secrets when he worked at Google puts his latest self-driving technology company, Pronto.ai, in a tough spot.

The big picture: The San Francisco-based startup, believed to be funded mostly by Levandowski himself, has been working on aftermarket kits to outfit heavy-duty trucks with driver-assistance technology.

Already facing an uphill battle against big truck manufacturers working on their own integrated systems, Pronto.ai's future seems uncertain.

Catch up quick: Levandowski, 39, was charged by federal prosecutors with 33 counts of theft and attempted theft of trade secrets from Google and its self-driving unit, Waymo.

Levandowski, an original member of Google's self-driving car project, allegedly stole more than 14,000 proprietary files, including designs for lidar technology, from Waymo before leaving in 2016 to start his own company, Otto.
Uber acquired Otto a few months later for $600 million and made Levandowski the head of its self-driving project.
Waymo sued Uber in February 2017, but the companies abruptly settled in the midst of trial a year later.

Levandowski was not a defendant in that case, but U.S. District Judge William Alsup referred the matter to the FBI for further criminal investigation, which resulted in Tuesday's indictment.
"All of us have the right to change jobs. None of us has the right to fill our pockets on the way out the door. Theft is not innovation."
— U.S. Attorney David Anderson

The big question is what will happen to Pronto.ai, which is only a year and a half old and has fewer than 100 employees.

The company moved swiftly to control the fallout, promoting chief safety officer Robbie Miller to CEO, replacing Levandowski.
Miller is an outspoken safety advocate who as an employee sent an infamous "whistleblower's email" to Uber leaders in 2018 warning of safety concerns just 5 days before a pedestrian was killed by an Uber self-driving test vehicle.

In an emailed statement, Pronto.ai noted that the criminal charges filed against Levandowski "relate exclusively to lidar and do not in any way involve Pronto's ground-breaking technology."

The company said it still plans to begin shipping its first product, Copilot, later this year to unnamed fleet customers.
Copilot is a Level 2 driver assist system that provides collision avoidance, full-stop emergency braking, lane centering and adaptive cruise control — similar to tech found in today's luxury vehicles.
Priced at $5,000, it is a camera- and software-based system that the company says does not rely on "hardware crutches like lidar."
Over time, Pronto.ai plans to add additional driver-assistance features.

Yes but: The company's chances for survival without Levandowski are unclear.

Amid a war for talent, competitors are likely to swoop in to try to poach employees; some already are.
It's possible the company could be more attractive to outside investors now that the controversial Levandowski is gone.

What to watch: There's a lot of consolidation happening in the AV space, and Pronto.ai's driver-assistance technology isn't much different from what's in the pipeline from big players like Daimler, Volvo Trucks, Paccar and Navistar. Chances are high the company gets swept up by another player.
RECHARGING UNMANNED EVS FOR SMARTER CITIES
At the moment, the only system that would be capable of servicing such robotic vehicles would be the proposed SmartNet™ dual fuel service stations, where such vehicles do not need human assistance to replenish their energy reserves, where blue is the new green, helping to cool our climate.
Allied to this is PAYD (Pay As You Drive) billing, also seen as a necessary function for autonomous, unmanned, self-driving, robotic vehicles, is helping to make the world a better place.
https://www.axios.com/ceo-indictment-hangs-latest-startup-prontoai-06b5b736-df7a-4749-8dc3-85fb09986ff0.html
THE AUTOMATED and ELECTRIC VEHICLES ACT 2018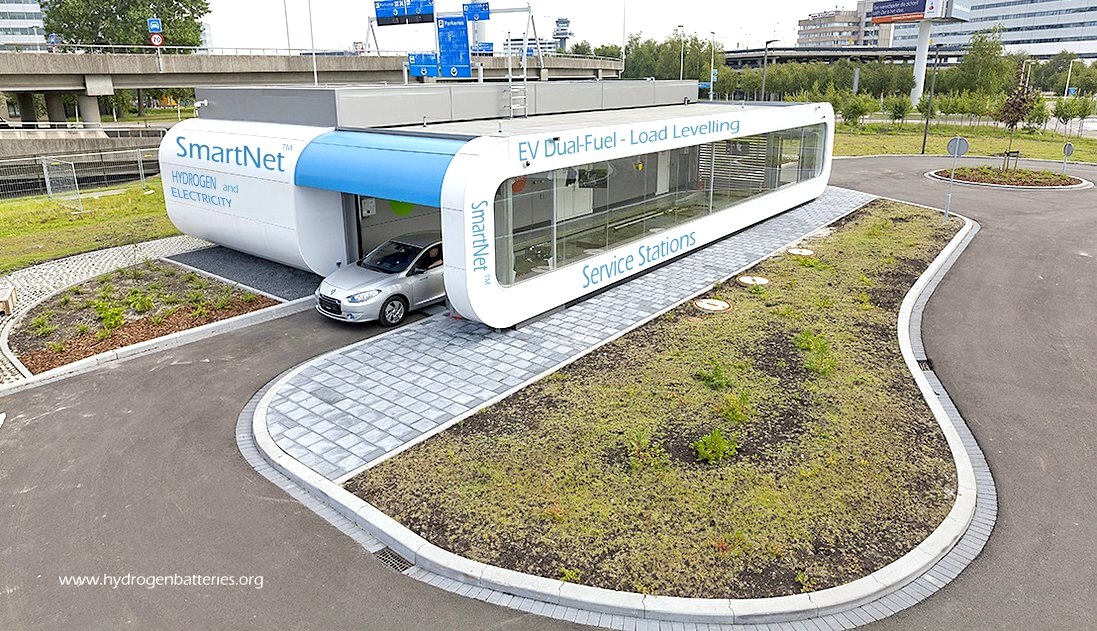 SMART SERVICING FOR ROBOT VEHICLES - Those looking for a future proofed infrastructure for renewably sourced energy for electric vehicles, may want to consider the new breed of self driving passenger cars, taxis, and commercial trucks that will benefit from automated recharging if they are to be fully autonomous in operation - most especially unmanned robotic taxis and freight vehicles.
Please use our A-Z INDEX to navigate this site
This website is provided on a free basis to promote zero emission transport from renewable energy in Europe and Internationally. Copyright © Universal Smart Batteries and Climate Change Trust 2021. Solar Studios, BN271RF, United Kingdom.