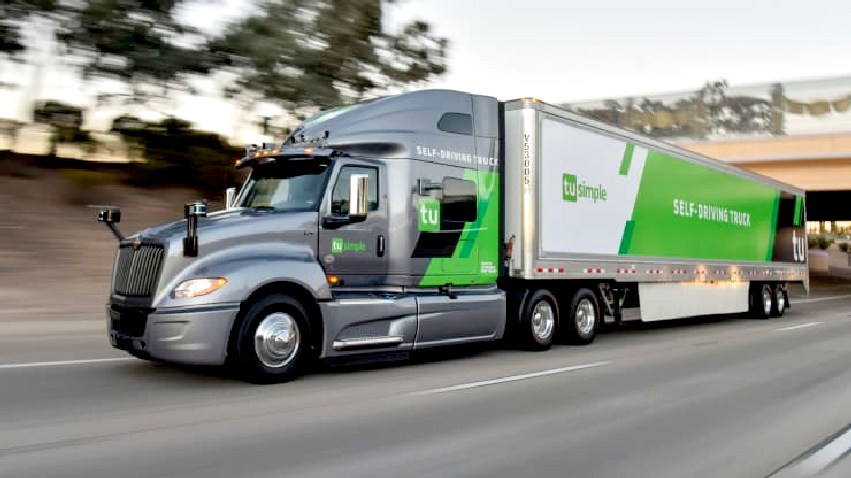 TUSIMPLE - Self driving robotrucks for freeway haulage logistics is fine, but what about complex traffic maneuvers. TuSimple uses AI to dramatically improve safety by allowing the truck to see up to 1,000 meters away, locate objects at night and bring massive amounts of data to simulation, ensuring the vehicle reliably makes the best choice in any scenario.
CNBC 19 MAY 2021 - TuSimple says its self-driving trucks shaved 10 hours off a 24-hour run

Autonomous vehicle company TuSimple on Wednesday claimed that its trucks shaved 10 hours off what's normally a 24-hour job.

The company tested its trucks by hauling fresh watermelons along a 951-mile route from Nogales, Arizona to Oklahoma City. The drive was part of a pilot project with TuSimple partners Giumarra, a produce grower and distributor, and the Associated Wholesale Grocers.

The run normally takes 24 hours and 6 minutes with human drivers and traditional trucks, but TuSimple's automated driving systems enabled a 42% faster run of 14 hours and six minutes, the company said.

According to TuSimple, a human driver worked on the pick-up and delivery of the produce. But during the long middle segment of the drive - from Tucson, Arizona, to Dallas, Texas -- TuSimple's vehicle drove itself with a human safety driver on board.

A spokesperson for TuSimple told CNBC the pilot was done with a safety driver on-board partly to comply with a patchwork of local regulations in the U.S. TuSimple aims to operate its trucks without needing a safety driver on-board at all by the end of 2024. Its trucks can be driven manually if and when needed.

Today, federal regulation does not limit the use of automated driving systems in the U.S. Rules and enforcement are left to states. But a congressional subcommittee on Tuesday discussed possible rules and incentives that would encourage broader adoption of driverless vehicles and grow the emerging industry domestically.

As an emerging tech company, TuSimple is not yet profitable despite its market cap of more than $7 billion. The approximately 800-employee startup spent $41.4 million on research and development in the first quarter this year, and generated $944,000 in revenue during the same period.

The company is going after a significant piece of an estimated $4 trillion global truck freight market.

Competitors developing autonomous vehicle systems specifically for hauling freight also include Aurora, Tesla via its Heavy Trucking unit, Daimler Trucks (via their Torc Robotics subsidiary), Amazon-backed Embark and Alphabet's Waymo, among others in the U.S.

Some competitors, joined by the likes of Toyota-backed Pony.ai and Nuro, are developing driverless vehicles for "contactless" food deliveries to consumers as well.

Prior to its IPO, TuSimple struck partnerships with and scored financial backing from Volkswagen AG's heavy-truck business, The Traton Group, and from Navistar to develop their vehicles. It also raised funds from the venture arm of UPS, and partnered with the U.S. Postal Service to conduct a multi-state test program running trucks between Dallas and Phoenix. By Lora Kolodny
Headquarters
9191 Towne Centre Dr. Ste 600
San Diego, CA 92122

Arizona Office
9538 E Old Vail Rd.
Tucson, AZ 85747

Texas Office
2012 Eagle Parkway,
Fort Worth, TX 76177
RECHARGING UNMANNED EVS FOR SMARTER CITIES
At the moment, the only system that would be capable of servicing such vehicles would be the proposed SmartNet™ dual fuel service stations, where such vehicles do not need human assistance to replenish their energy reserves, where blue is the new green, helping to cool our climate and clean the air in our cities.
Allied to this is PAYD (Pay As You Drive) billing, also seen as a necessary function for autonomous, unmanned, self-driving, robotic vehicles, is helping to make the world a better place.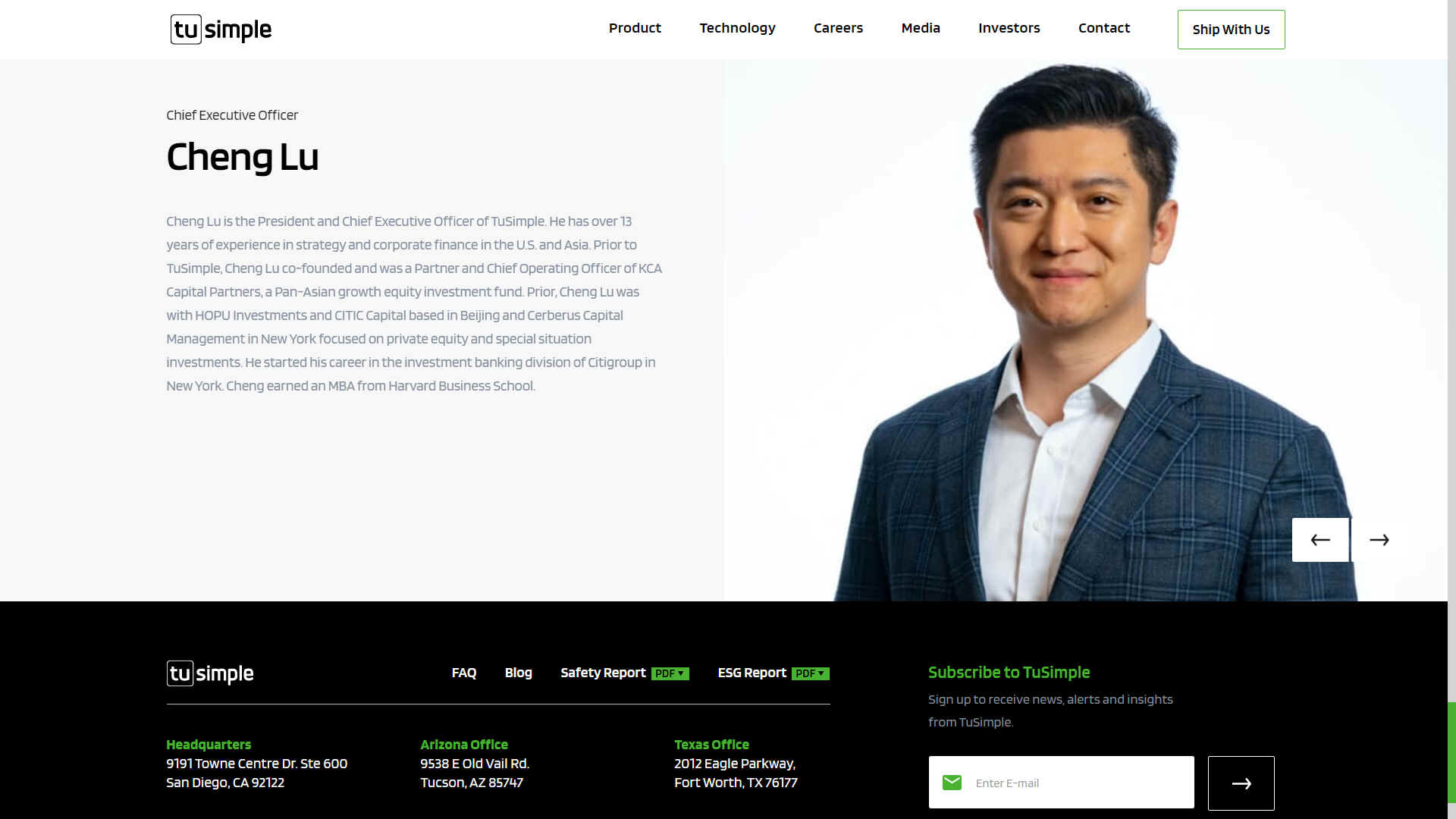 https://www.cnbc.com/2021/05/29/how-ample-is-bringing-battery-swapping-to-the-us.html?recirc=taboolainternal
https://www.cnbc.com/2021/05/29/how-ample-is-bringing-battery-swapping-to-the-us.html?recirc=taboolainternal
https://www.tusimple.com/
https://www.cnbc.com/2021/05/19/tusimple-self-driving-trucks-saved-10-hours-on-24-hour-run.html
https://www.cnbc.com/2021/05/19/tusimple-self-driving-trucks-saved-10-hours-on-24-hour-run.html
THE AUTOMATED and ELECTRIC VEHICLES ACT 2018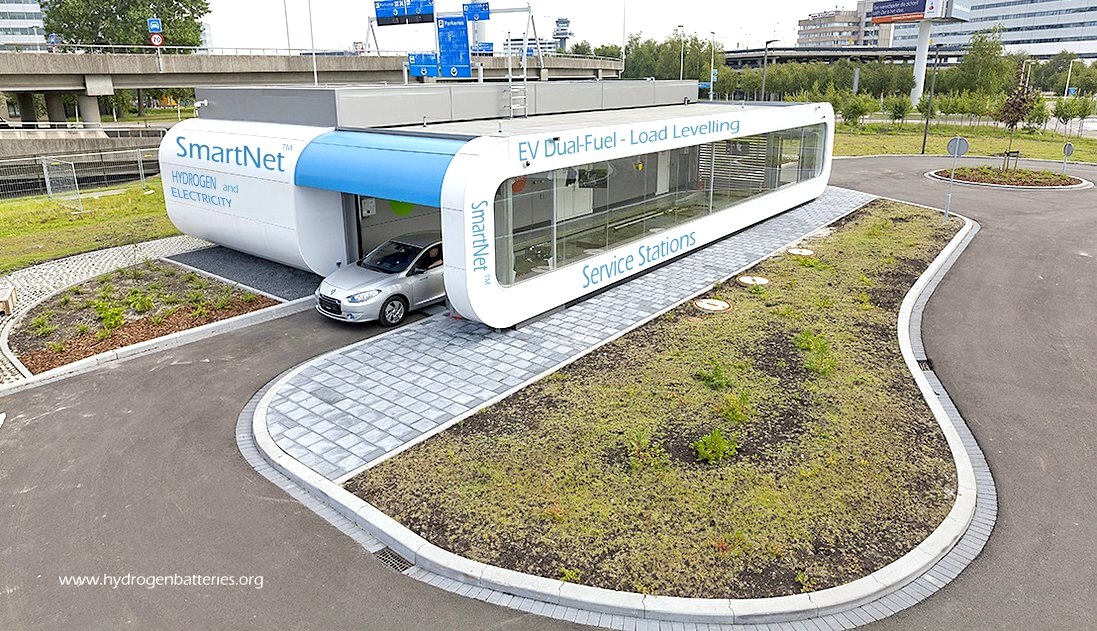 SMART SERVICING FOR ROBOT VEHICLES - Those looking for a future proofed infrastructure for renewably sourced energy for electric vehicles, may want to consider the new breed of self driving passenger cars, taxis, and commercial trucks that will benefit from automated recharging if they are to be fully autonomous in operation - most especially unmanned robotic taxis and freight vehicles.
Please use our A-Z INDEX to navigate this site
This website is provided on a free basis to promote zero emission transport from renewable energy in Europe and Internationally. Copyright © Universal Smart Batteries and Climate Change Trust 2021. Solar Studios, BN271RF, United Kingdom.