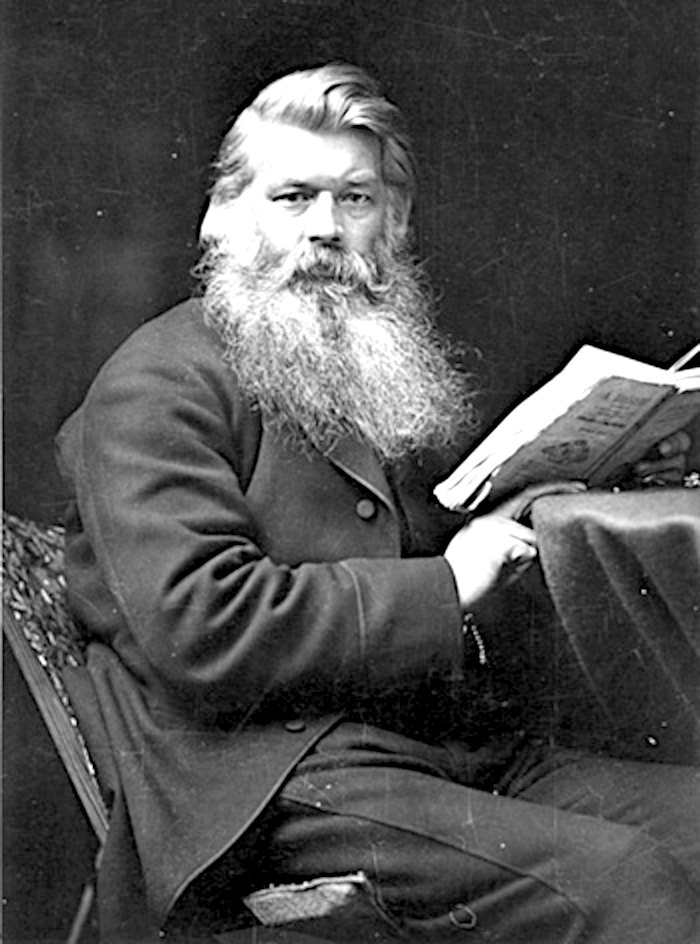 England's Joseph W. Swan, was a chemist, who experimented in the 1850s and 60s with carbon filaments. His early efforts failed however, because the vacuum pumps of those years could not remove enough air from the lamps. By the mid-1870s better pumps became available, and Swan returned to his experiments.

By late 1878, Swan reported success to the Newcastle Chemical Society and in February 1879 demonstrated a working lamp in a lecture in Newcastle. His lamps contained the major elements seen in Edison's lamps that October: an enclosed glass bulb from which all air had been removed, platinum lead wires, and a light-emitting element made from carbon. Why then is Edison generally credited (outside Britain) with inventing the light bulb?

Like other early inventors, Swan used a carbon rod with low electrical resistance in his lamp. Due to the relationship between resistance and current, a low resistance element required lots of current in order to become hot and glow. This meant that the conductors bringing electricity to the lamp would have to be relatively short (or impossibly thick), acceptable for an experiment or demonstration, but not for a commercial electrical system.

Made from an arc-lamp element, Swan's carbon rod gave off light but did not last very long. Gasses trapped in the rod were released when the lamp was activated, and a dark deposit of soot quickly built up on the inner surface of the glass. So while Swan's lamp worked well enough for him in a demonstration, it was impractical in actual use.

Edison realized that a very thin "filament" with high electrical resistance would make a lamp practical. High resistance meant only a little current would be required to make the filament glow and allow much longer copper lines of modest size to be used. Edison's Bristol-board lamps of December 1879 lasted about 150 hours, and his bamboo lamps of early 1880 lasted 600 hours.

It is for this realization about high resistance, and for his conception of the lamp as only one part of an integrated system, that Edison is generally credited with inventing the first practical incandescent lamp.

Swan did not lose out entirely however. While it appears that he never sent the letter that he wrote to Edison (cited above), his patents were strong enough to win in British courts. After another lamp maker lost a patent suit to Swan, the Edison interests decided to negotiate rather than risk losing a suit of their own.
"I had the mortification one fine morning of finding you on my track and in several particulars ahead of me -- but now I think I have shot ahead of you and yet I feel there is almost an infinity of detail to be wrought out in the large application now awaiting development and that your inventive genius as well as my own will find very ample room for exercise in carrying out this gigantic work that awaits execution."

-- Joseph Swan in a letter to Thomas Edison, 24 September 1880. Cited in Brian Bowers, Lengthening the Day New York: Oxford University Press, 1998.
Sir Joseph Wilson Swan is held to be the inventor of the electric light bulb in the United Kingdom, though Joseph Swans, patent predated Thomas Alva Edison's, he was the inventor in the United States - making them rivals. Eventually, the two men became partners, with the Edison & Swan United Electric Light Co. (Ediswan Lighting Company). The High Court in London ordering the combatants to work together.
Sir Joseph Wilson Swan FRS (31 October 1828 – 27 May 1914) was an English physicist, chemist, and inventor. He is known as an independent early developer of a successful incandescent light bulb, and is the person responsible for developing and supplying the first incandescent lights used to illuminate homes and public buildings, including the Savoy Theatre, London, in 1881.

In 1904, Swan was knighted by King Edward VII, awarded the Royal Society's Hughes Medal, and was made an honorary member of the Pharmaceutical Society. He had received the highest decoration in France, the Legion of Honour, when he visited the 1881 International Exposition of Electricity, Paris. The exhibition included displays of his inventions, and the city was lit with his electric lighting.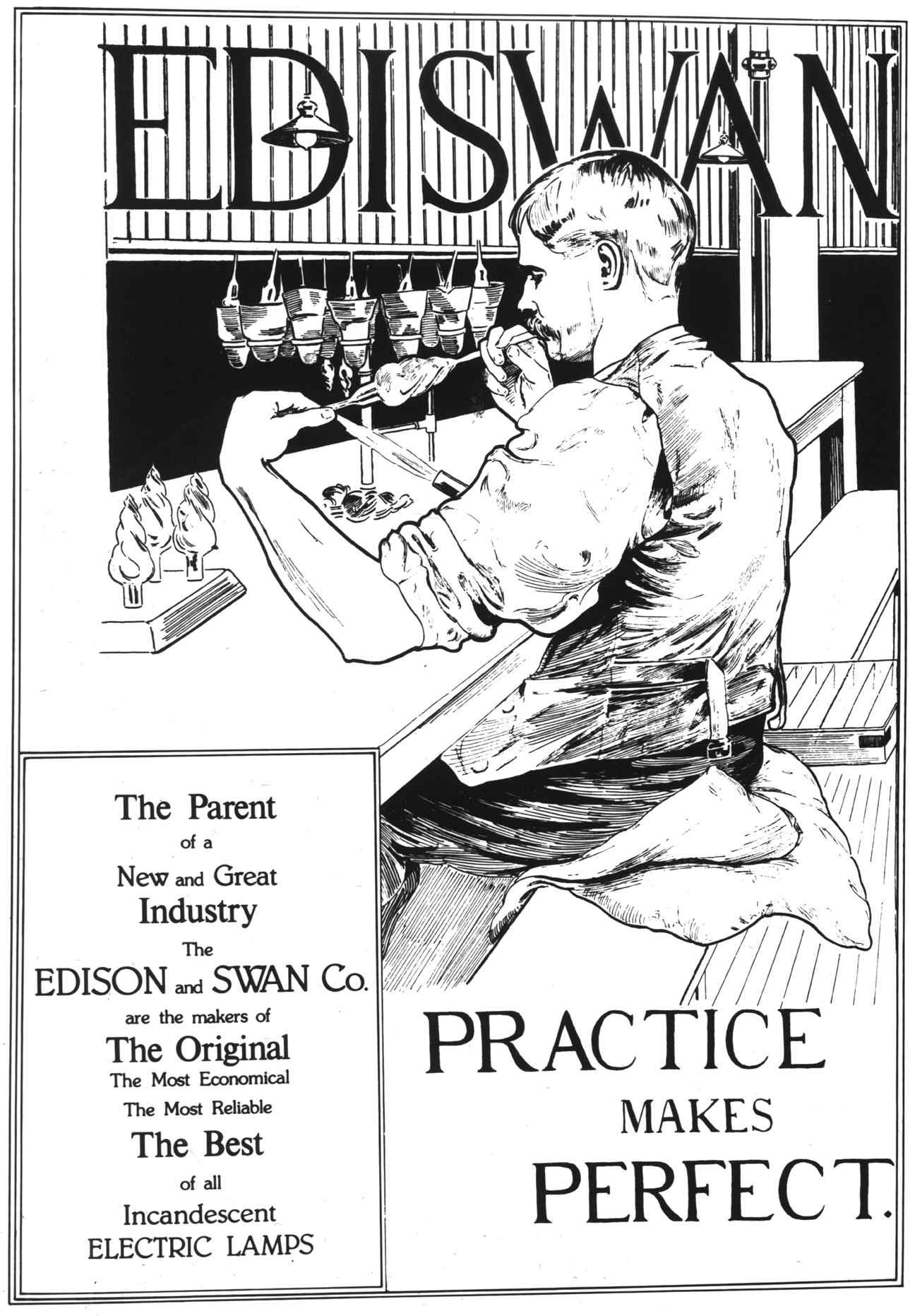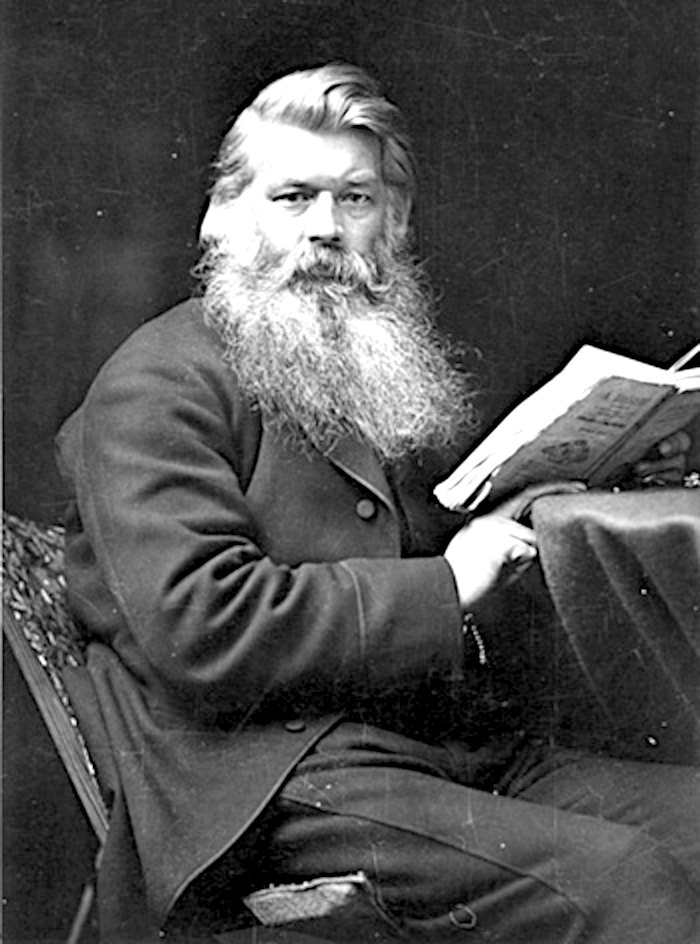 "I had the mortification one fine morning of finding you on my track and in several particulars ahead of me -- but now I think I have shot ahead of you and yet I feel there is almost an infinity of detail to be wrought out in the large application now awaiting development and that your inventive genius as well as my own will find very ample room for exercise in carrying out this gigantic work that awaits execution."

Joseph Swan in a letter to Thomas Edison, 24 September 1880. Cited in Brian Bowers, Lengthening the Day New York: Oxford University Press, 1998.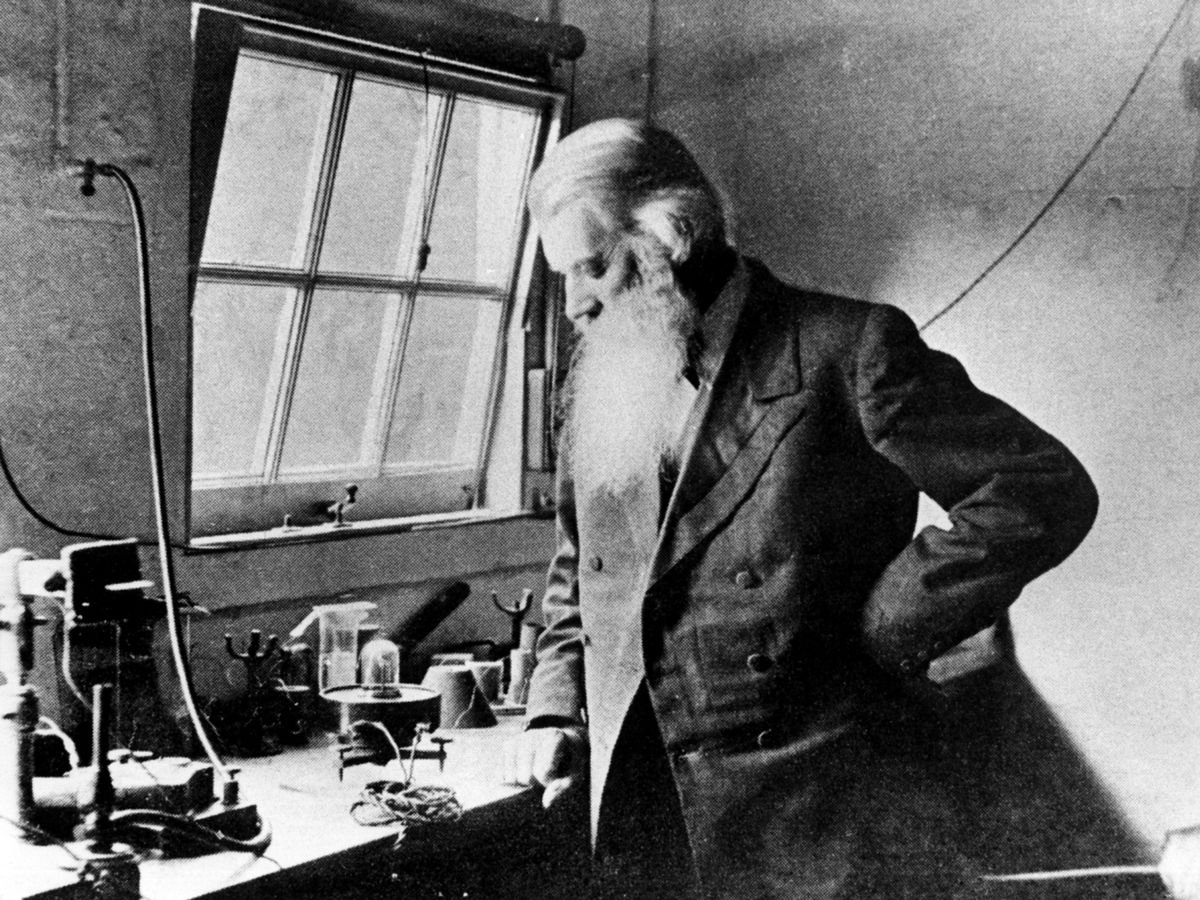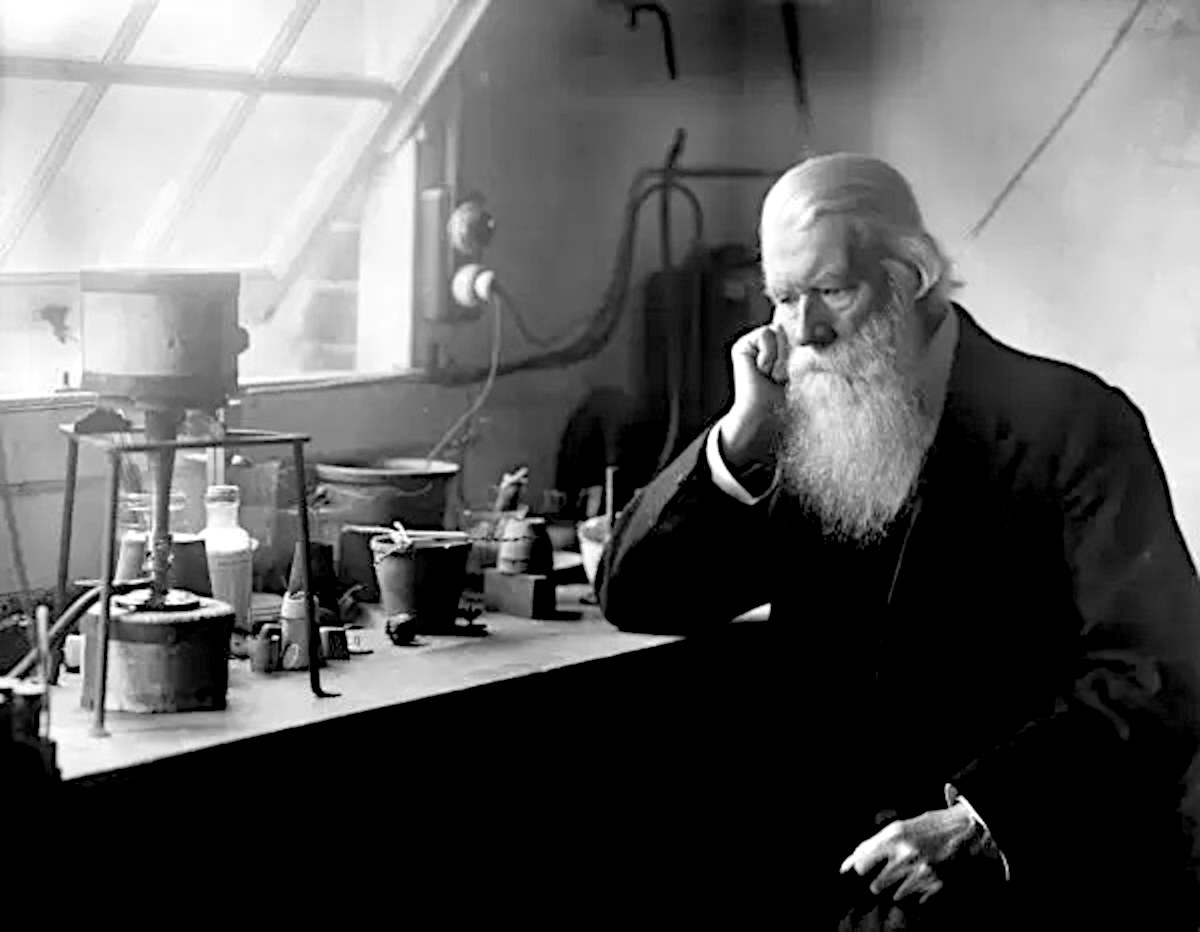 ELECTRIC LIGHT INVENTION

In 1850, Swan began working on a light bulb using carbonised paper filaments in an evacuated glass bulb. By 1860, he was able to demonstrate a working device, but the lack of a good vacuum, and an adequate electric source, resulted in an inefficient light bulb with a short lifetime. In August 1863 he presented his own design for a vacuum pump to a meeting of the British Association for the Advancement of Science. The design used mercury falling through a tube to trap air from the system to be evacuated. Swan's design was similar in construction to the Sprengel pump and predates Herman Sprengel's research by two years. Furthermore, it is notable that Sprengel conducted his research while visiting London, and would likely be aware of the annual reports of the British Association for the Advancement of Science. Nonetheless, Joseph Swan and Thomas Edison are later reported to have used the Sprengel pump to evacuate their carbon filament lamps.

In 1875, Swan returned to consider the problem of the light bulb with the aid of a better vacuum and a carbonised thread as a filament. The most significant feature of Swan's improved lamp was that there was little residual oxygen in the vacuum tube to ignite the filament, thus allowing the filament to glow almost white-hot without catching fire. However, his filament had low resistance, thus needing heavy copper wires to supply it.

Swan first publicly demonstrated his incandescent carbon lamp at a lecture for the Newcastle upon Tyne Chemical Society on 18 December 1878. However, after burning with a bright light for some minutes in his laboratory, the lamp broke down due to excessive current. On 17 January 1879, this lecture was successfully repeated with the lamp shown in actual operation; Swan had solved the problem of incandescent electric lighting by means of a vacuum lamp. On 3 February 1879, he publicly demonstrated a working lamp to an audience of over seven hundred people in the lecture theatre of the Literary and Philosophical Society of Newcastle upon Tyne, Sir William Armstrong of Cragside presiding. Swan turned his attention to producing a better carbon filament, and the means of attaching its ends. He devised a method of treating cotton to produce "parchmentised thread", and obtained British Patent 4933 on 27 November 1880. From that time he began installing light bulbs in homes and landmarks in England.

His house, Underhill, Low Fell, Gateshead, was the world's first to have working light bulbs installed. The Lit & Phil Library in Westgate Road, Newcastle, was the first public room lit by electric light during a lecture by Swan on 20 October 1880. In 1881, he founded his own company, The Swan Electric Light Company, and started commercial production.

The Savoy, a state-of-the-art theatre in the City of Westminster, London, was the first public building in the world lit entirely by electricity. Swan supplied about 1,200 incandescent lamps, powered by an 88.3-kilowatt (118.4-horsepower) generator on open land near the theatre. The builder of the Savoy, Richard D'Oyly Carte, explained why he had introduced Swan's electric light: "The greatest drawbacks to the enjoyment of the theatrical performances are, undoubtedly, the foul air and heat which pervade all theatres. As everyone knows, each gas-burner consumes as much oxygen as many people, and causes great heat beside. The incandescent lamps consume no oxygen, and cause no perceptible heat." The first generator proved too small to power the whole building, and though the entire front-of-house was electrically lit, the stage was lit by gas until 28 December 1881. At that performance, Carte stepped onstage and broke a glowing lightbulb before the audience to demonstrate the safety of Swan's new technology. On 29 December 1881, The Times described the electric lighting as superior, visually, to gaslight.

The first private residence, other than the inventor's, lit by the new incandescent lamp was that of his friend, Sir William Armstrong at Cragside, near Rothbury, Northumberland. Swan personally supervised the installation there in December 1880. Swan had formed "The Swan Electric Light Company Ltd" with a factory at Benwell, Newcastle, and had established the first commercial manufacture of incandescent lightbulbs by the beginning of 1881.

Swan's carbon rod lamp and carbon filament lamp, while functional, were still relatively impractical due to low resistance (needing very expensive thick copper wiring) and short running life. While searching for a better filament for his light bulb, Swan inadvertently made another advance. In 1881, he developed and patented a process for squeezing nitrocellulose through holes to form conducting fibres. His newly established company (which by merger eventually became the Edison and Swan United Company) used Swan's cellulose filaments in their bulbs. The textile industry has also used this process.

The first ship to use Swan's invention was The City of Richmond, owned by the Inman Line. She was fitted with incandescent lamps in June 1881. The Royal Navy also introduced them to their ships soon after; with HMS Inflexible having the new lamps installed in the same year. An early employment in engineering was during the digging of the Severn Tunnel, where contractor Thomas Walker installed "20-candlepower lamps" in the temporary pilot tunnels.

Swan was one of the early developers of the electric safety lamp for miners, exhibiting his first in Newcastle upon Tyne at the North of England Institute of Mining and Mechanical Engineers on 14 May 1881. This required a wired supply, so the following year, he presented one with a battery and other improved versions followed. By 1886, a lamp with better light output than a flame safety lamp was in production by the Edison-Swan Company. However, it suffered from problems of reliability and was not a success. It took development by others over the next 20 years or so before effective electric lamps were in common use.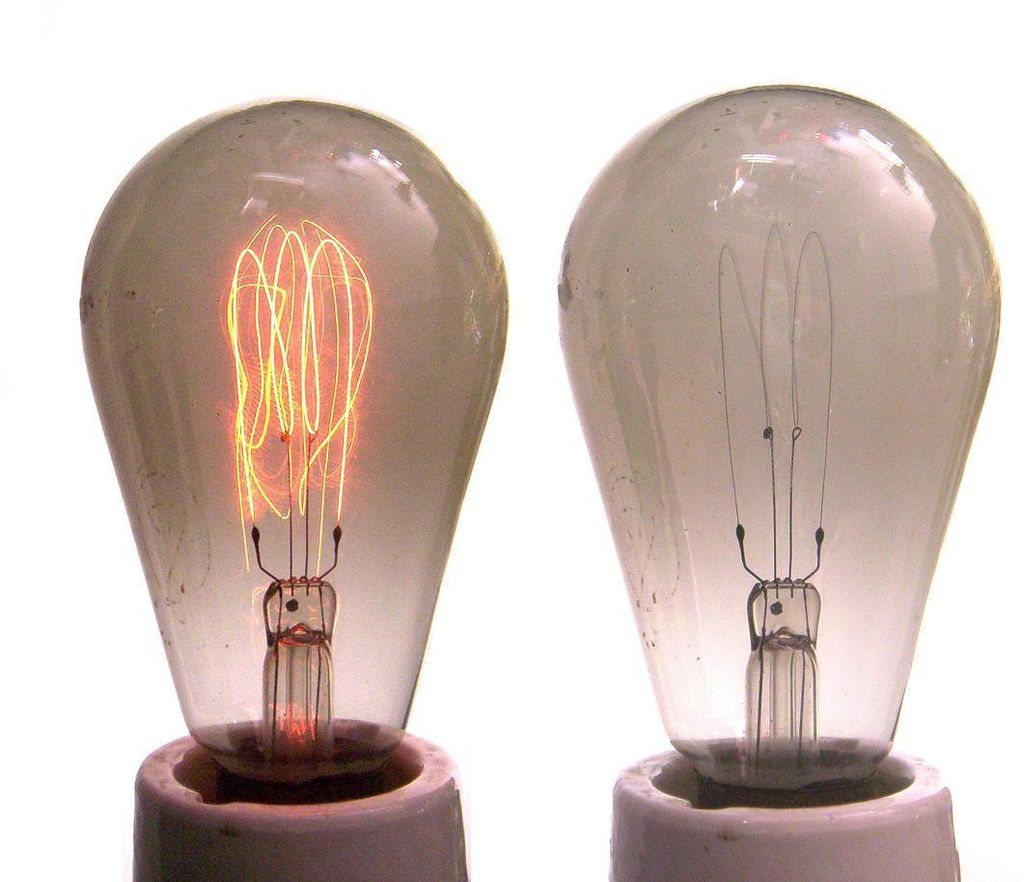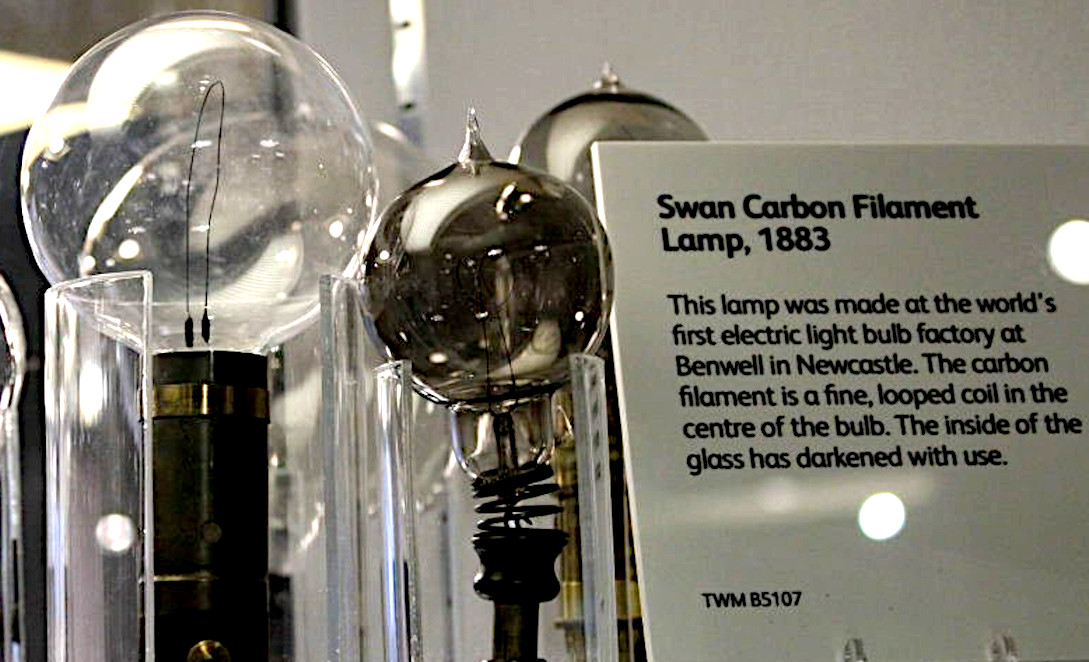 THOMAS EDISON PARTNERSHIP

In what are considered to be independent lines of inquiry, Swan's incandescent electric lamp was developed at the same time Thomas Alva Edison was working on his incandescent lamp with Swan's first successful lamp and Edison's lamp both patented in 1879. Edison's goal in developing his lamp was for it to be used as one part of a much larger system: a long-life high-resistance lamp that could be connected in parallel to work economically with the large-scale electric-lighting utility he was creating. Swan's original lamp design, with its low resistance (the lamp could only be used in series) and short life span, was not suited for such an application. Swan's strong patents in Great Britain led, in 1883, to the two competing companies merging to exploit both Swan's and Edison's inventions, with the establishment of the Edison & Swan United Electric Light Company. Known commonly as "Ediswan", the company sold lamps made with a cellulose filament that Swan had invented in 1881, while the Edison Company continued using bamboo filaments outside of Britain. In 1892, General Electric (GE) began exploiting Swan's patents to produce cellulose filaments, until they were replaced in 1904 by a GE developed "General Electric Metallized" (GEM) baked cellulose filaments.

In 1886, Ediswan moved production to a former jute mill at Ponders End, North London. In 1916, Ediswan set up the UK's first radio thermionic valve factory at Ponders End. This area, with nearby Brimsdown subsequently developed as a centre for the manufacture of thermionic valves, cathode ray tubes, etc., and nearby parts of Enfield became an important centre of the electronics industry for much of the 20th century. Ediswan became part of British Thomson-Houston and Associated Electrical Industries (AEI) in the late 1920s.

PHOTOGRAPHY

When working with wet photographic plates, Swan noticed that heat increased the sensitivity of the silver bromide emulsion. By 1871, he had devised a method of using dry plates, and substituting nitrocellulose plastic for glass plates, thus initiating the age of convenience in photography. Eight years later, he patented bromide paper, developments of which are still used for black-and-white photographic prints.

In 1864, Swan patented the transfer process for making carbon prints, a permanent photographic process. By adding the transfer step, Swan was able to easily make photographs with a full tonal range.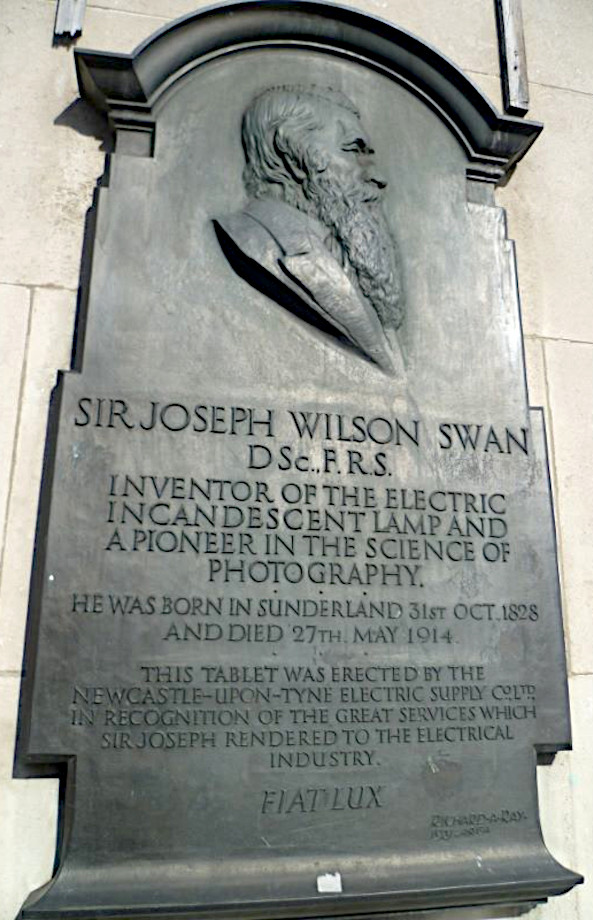 PERSONAL HISTORY

Joseph Wilson Swan was born in 1828 at Pallion Hall in Pallion, in the Parish of Bishopwearmouth, Sunderland, County Durham. His parents were John Swan and Isabella Cameron.

Swan was apprenticed for six years to a Sunderland firm of Pharmacists/druggists, Hudson and Osbaldiston. However, it is not known if Swan completed his six-year apprenticeship, as both partners subsequently died. He was said to have had an enquiring mind, even as a child. He augmented his education with a fascination of his surroundings, the industry of the area, and reading at Sunderland Library. He attended lectures at the Sunderland Atheneum.

Swan subsequently joined Mawson's, a firm of manufacturing chemists in Newcastle upon Tyne, started in the year of Swan's birth by John Mawson (9 September 1819 – 17 December 1867), the husband of his sister, Elizabeth Swan (22 November 1822 – 2 August 1905). In 1846, Swan was offered a partnership at Mawson's. This company subsequently existed as Mawson, Swan, and Morgan until 1973, formerly located on Grey Street in Newcastle upon Tyne, near Grey's Monument. The premises, now occupied by burger chain restaurant Byron, can be identified by a line of Victorian-style electric street lamps in front of the store on Grey Street.

Swan lived at Underhill, Low Fell, Gateshead, a large house on Kells Lane North, where he conducted most of his experiments in the large conservatory. The house was later converted into Beaconsfield School, a private fee-paying, grant-aided co-educational grammar school. Students there could still find examples of Swan's original electrical fittings.

MARRIAGE

Swan married firstly Frances "Fanny" White, third daughter of William White, of Liverpool, at Camberwell Chapel, London, on 31 July 1862. They had four children; Donald Cameron, Mary Edmonds, and Joseph. Frances died on 9 January 1868 and he married secondly Hannah White, the younger sister of Frances, at Neuchâtel, Switzerland, on 3 October 1871. They had five children; Hilda, Frances Isobel, Kenneth Rayden, Percival and Dorothy. Sir Kenneth Rayden Swan was a QC and an acknowledged authority on patent law.

Swan died in 1914 at his home in Overhill, Warlingham, Surrey. The funeral took place at All Saints' Church, Warlingham, on 30 May 1914, with interment taking place in the churchyard. Mourners included representatives of the Institution of Electrical Engineers, the Institution of Mechanical Engineers, and the Royal Society.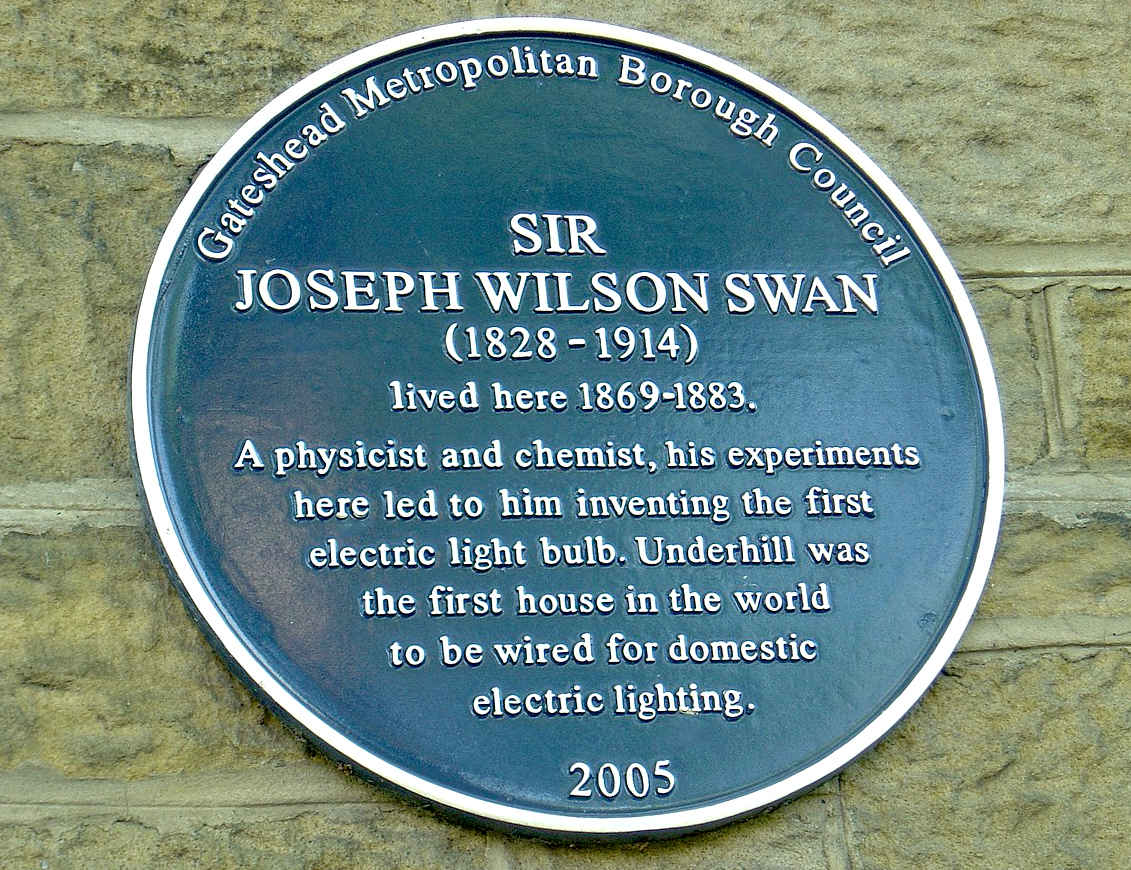 LATER LIFE

In 1894, Swan was elected a Fellow of the Royal Society (FRS), and in 1898 he was elected president of the Institution of Electrical Engineers; at the time, Swan was one of its three honorary members, the other two being Lord Kelvin and Henry Wilde. In September 1901, he was awarded the honorary degree of Doctor of Science (D.Sc.) from Durham University. He also served as president of the Society of Chemical Industry in 1901, and in 1903 he was chosen first president of the Faraday Society. In 1904, he was knighted, awarded the Royal Society's Hughes Medal, and made an honorary member of the Pharmaceutical Society.

In 1945, the London Power Company commemorated Swan by naming a new 1,554 GRT coastal collier SS Sir Joseph Swan.
SWITCHES & BULBS - Where would we be without electric lighting. A battle royal ensued in the law courts and Thomas Edison and Joseph Swan slogged it out in the London High Court, ending with the combatants working together as the Edison & Swan United Electric Light Co. ELECTRIC BAKERY - The earliest surviving generating station, dating from C. 1900, with battery based load levelling as the core technology, coupled to a 48 volt DC generator, is in the little village of Herstmonceux, Sussex.
Today, light bulbs are considered to be wasteful of energy, creating a lot of heat for the light output. They are being replaced by LEDs, as part of the fight against climate change, and simply to cut the cost of lighting.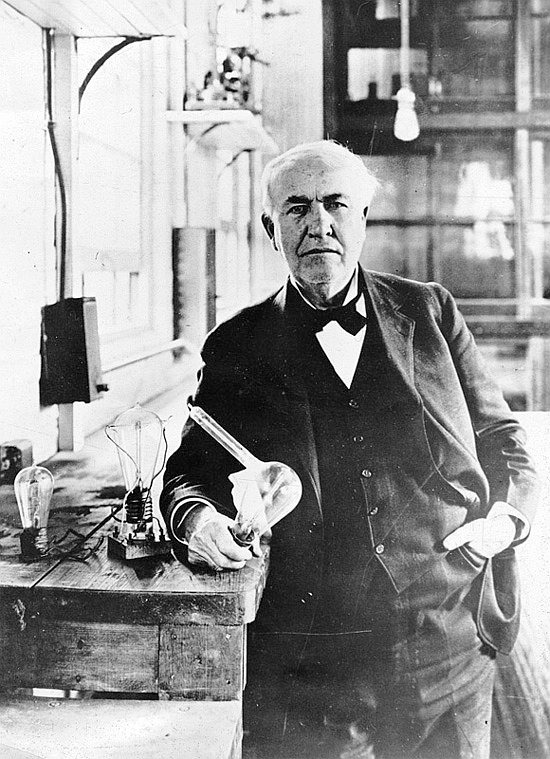 The electrical power generation industry began when light bulbs and other devices that needed reliable energy supplies were invented. Telephones and televisions all needed electricity. It is painful to cast aspersions on the reputation of one of America's heroes, but Edison, who patented his bulb in 1879, improved on a design that British inventor Joseph Swan had patented 10 years earlier. Improvement patents, are however, still inventive steps and legitimate development.
Having invented the light bulb, Joseph Swan needed to provide electricity to key areas, to promote the sale of his lighting apparatus. Useless of course, unless energy was available to power his bulbs, with the need for switches and other electrical components, that he could supply and recover his investment, and even turn a profit.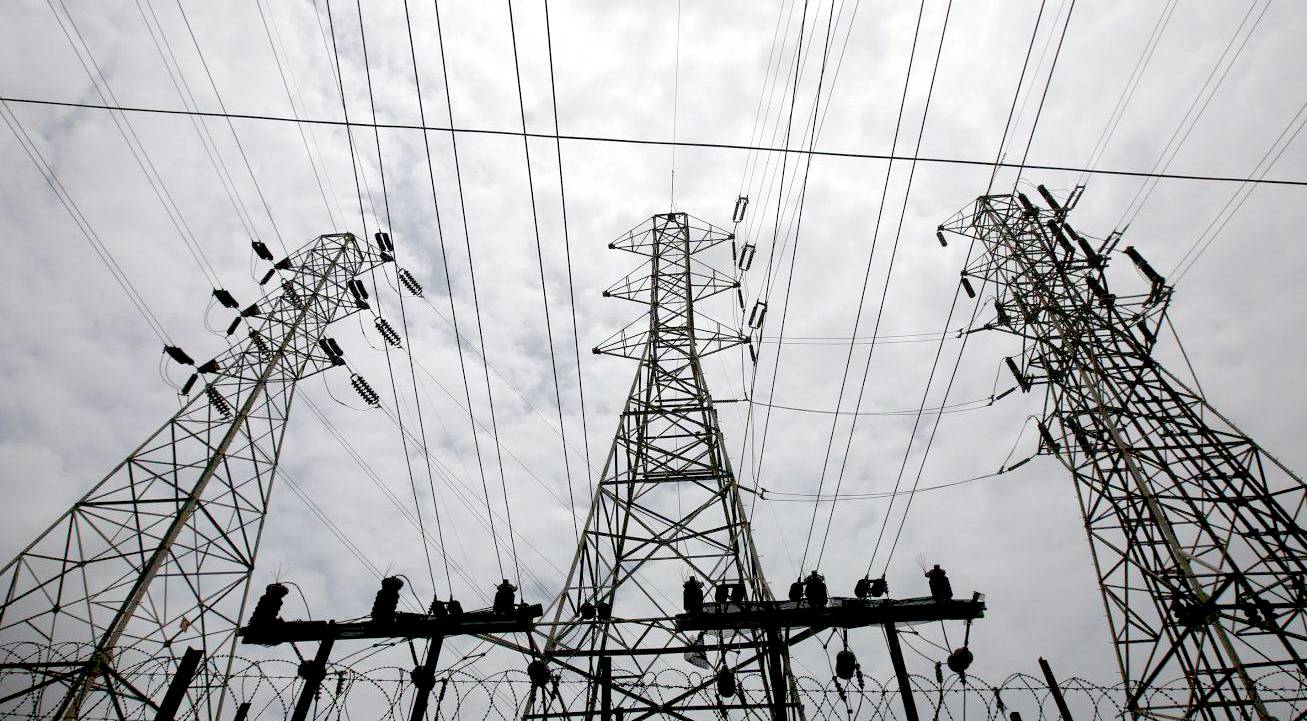 The electrical power generation industry began when light bulbs and other devices that needed reliable energy supplies were invented. Telephones and televisions all needed electricity.
Please use our A-Z INDEX to navigate this site
This website is provided on a free basis to promote zero emission transport from renewable energy in Europe and Internationally.
Copyright © Universal Smart Batteries and Climate Change Trust 2022. Solar Studios, BN271RF, United Kingdom.